Best Online Family Nurse Practitioner (FNP) Programs
Last Updated/Verified: Sep 18, 2023
Compare the 2023 Top Ranked Online FNP Programs
Family Nurse Practitioners get to treat and follow patients across the lifespan, from young to old and everything in between. It's no wonder that the FNP is one of the most popular nurse practitioner specialties. With the explosion of online programs in the last several years, finding the right FNP program has never been easier. Browse our rankings of the top online FNP programs below to get started. For more information, check out our rankings methodology.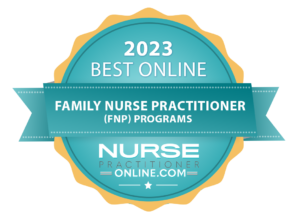 What Is an Online Family Nurse Practitioner Program Like?
With many schools now offering Family Nurse Practitioner (FNP) programs online, you may be curious about what it might be like to enroll in one – especially if you haven't experienced much distance-learning before. The first thing to know is that an online FNP program is educationally equivalent to a traditional, campus-based program. As long as the online program you choose is properly accredited by a respected agency such as the Commission on Collegiate Nursing Education (CCNE) or the Accreditation Commission for Education in Nursing (ACEN), and approved by your state's Board of Nursing, you can rest assured that you will be getting the same great education as your in-class peers.
Choosing an Appropriate FNP Program
Finding the right family nurse practitioner program starts with the degree type you enter the program with. Some degree routes require a minimum degree to be eligible; for example, the post-graduate certificate pathway will require at least an MSN degree. Here are some options based on the nursing degree you currently hold.
| If I Currently Have… | Option 1 | Option 2 |
| --- | --- | --- |
| BSN | BSN to MSN Programs | BSN to DNP Programs |
| MSN | Post-Master's Certificate | MSN to DNP Programs |
To see programs at each degree level, click the buttons below:
Choosing the best family nurse practitioner program for you also depends on your professional goals. Think of your long-term goals in terms of practice location, career advancement, and the job roles you are interested in. Specific degree types may dictate which roles you can hold, or at the very least, make it easier to move into the role you ultimately desire.
If you are still contemplating the right FNP pathway for you, try narrowing it down by defining your specific mission in working with families across the lifespan and align your degree choice with the best option to reach that goal. The following table will help guide you to the right degree pathway.
| | MSN | Post-Master's Certificate | DNP |
| --- | --- | --- | --- |
| I enjoy working directly with patients of all ages | X | X | X |
| I already hold a graduate degree, but I wish to increase my skill set for providing excellent care to families | | X | X |
| I feel called to teach at the university level | X | | X |
| I want to advocate for at-risk families and be a leader in my facility | X | X | X |
| I have ideas for clinically relevant research projects to improve the lives of children and adults | | | X |
| My passion is to create and improve national health policies | | | X |
| I wish to understand population-based health in order to improve healthcare outcomes for people across the nation | | | X |
| I wish to guide healthcare law and ethics | | | X |
Now that you've been introduced to the degree options, there are a few other components to being enrolled in an online Family Nurse Practitioner program that you should know about. Check out our program guide below.
Online Family Nurse Practitioner Program Admissions & Requirements by Degree Type

Online FNP Program Classes and Curriculum

Clinical Requirements and Certification
Online FNP Program Admissions
Admission to an online FNP program is not unlike the process for other graduate-level nursing programs. Keep in mind that there are a few pathways for aspiring FNPs, depending on the education level they already hold. Students can opt for a Master's of Science in Nursing (MSN), a Post-Graduate Certificate, or a Doctor of Nursing Practice (DNP). Each of these will require slightly different prerequisites, which can differ from school to school. In general, you'll need the following to enroll in each FNP program pathway. Always check your school of choice for exact requirements.
| | MSN-Level FNP | Post-Master's Certificate FNP | DNP-Level FNP |
| --- | --- | --- | --- |
| Prior Education/GPA | Hold a BSN from an accredited institution; typical minimum GPA of 3.0 | Hold an MSN from an accredited institution; typical minimum GPA of 3.0 | A BSN or MSN from an accredited institution; typical minimum GPA of 3.0 |
| RN Licensure | Current, unrestricted United States RN license | Current, unrestricted U.S. RN license; certification as an APRN or Nurse Practitioner | Current, unrestricted United States RN license |
| Experience | At least one year of professional nursing experience is typically required | One year or more of professional nursing experience; prior graduate coursework prerequisites | One year or more of professional nursing experience |
| Written Requirements | A personal essay or statement of interest may be required | A personal essay or statement of interest may be required | Personal essay or statement of professional goals; professional letters of recommendation |
Online FNP Curriculum & Classes
Online FNP programs have robust curricula that expose students to graduate-level core courses as well as specialty courses designed specifically for the future family nurse practitioner. Coursework for family nurse practitioner MSN and post-master's certificate programs are similar in that the focus is primarily on nurse practitioner core classes and concentrated courses in both pediatric and adult healthcare. DNP students will also complete advanced courses in:
Ethics
Biostatistics
Research
Epidemiology
Other examples of FNP coursework includes:
Pediatric Health Promotion & Assessment

Management of Complex Health Problems

Problems in Family Primary Care

Advanced Practice Nursing in Primary Care of the Adult

Clinical Decision-Making for the Family Nurse Practitioner

Essential Care for the Childbearing Year

Community-Based Research

Health Care Policy
A final thesis highlighting patient-level family healthcare issues, integration of evidence-based standards of care, and health promotion may be required for MSN students. DNP students typically complete a capstone project, which is a process where students utilize their understanding of advanced FNP coursework related to population-based health, technology, evidence-based clinical practice, and health care policy. This DNP scholarly project typically focuses on a real-world clinical issue or question. The number of credits an FNP student must complete will depend on the degree level they choose (MSN, Post-Grad Certificate, DNP) as well as their prior education and whether they choose full-time or part-time study. In general:
MSN-FNP programs take roughly 2-3 years to complete

Post-Master's Certificate FNP programs take 1-2 years to complete

DNP-FNP programs can take anywhere from 3 to 7 years to complete
Family nurse practitioner MSN, post-grad certificate, and DNP programs differ in both the number of course credits and the number of clinical hours required.
| Degree | MSN | Post-Master's Certificate | DNP |
| --- | --- | --- | --- |
| Average Credit Requirements | 41 | 29 | 68 |
Both MSN to DNP and BSN to DNP programs are common, with the latter essentially combining MSN and DNP credit requirements.
FNP Clinical Requirements
Family Nurse Practitioner programs, including online programs, generally include a clinical portion comprised of a minimum amount of clinical practice hours. The number of hours needed will depend on the degree level and your state's guidelines and can range from 600-1100 hours. Clinical experience hours are sometimes broken out into clinical hours and direct patient care hours. To meet these clinical requirements, students are matched with preceptors that are often pre-approved by the school. If the online program is based outside of the student's local area, arrangements can usually be made for the student to complete their clinical hours at an agreed-upon local preceptor site. In addition to this, currently employed RNs are often able to complete their clinical requirements at their place of employment (typically outside of paid working hours). FNP students are encouraged to complete their clinical requirements in a setting with an experienced FNP, although students can also complete their requirements with the following preceptors:
Nurse Practitioners with board certification in areas such as pediatrics, women's health, geriatrics, etc.

Medical Doctors (MDs) with family or internal medicine practices

Certified Nurse-Midwives who hold a minimum of an MSN

Physician Assistants who hold a minimum of an MSN
For questions about clinical requirements or settings, students can reach out to their program or department's clinical coordinator.