Best Online DNP Nurse Practitioner Programs
Last Updated/Verified: Nov 17, 2023
Nurses that have a BSN or MSN degree sometimes wish to obtain the Doctor of Nursing Practice (DNP). Learn about obtaining the online nurse practitioner DNP degree, why nurses pursue it, and about specialties within the profession.
Compare the 2023 Top Ranked Online DNP Programs
Doctor of Nursing Practice programs are designed for NPs who want to enter the most advanced levels of nursing practice. Offered in a variety of specialties, the DNP is a popular choice for ambitious nurse practitioners. Those pursuing this educational route often seek out the best programs available - especially if online learning is a priority. This is why we have analyzed and ranked the top online DNP programs across a range of specialties. Browse this year's list below to help you narrow down the right program. For more information on our rankings process, visit our Methodology page.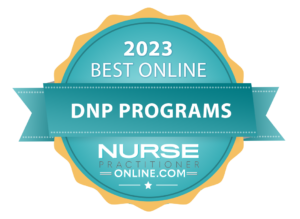 Definition: What Is an Online DNP Nurse Practitioner Degree?
Doctorate degrees in nursing prepare RNs for the highest level in nursing practice. These include the Doctor of Nursing Practice (DNP) and the Ph.D. in Nursing.
The online nurse practitioner DNP program is a terminal degree and prepares nurses for leadership positions, clinical applications in nursing, and quality improvement in nursing. Most prospective nurse practitioners choose to earn a DNP rather than a Ph.D. in Nursing, as the DNP is geared more toward clinical practice. Ph.D. in Nursing students tend to enter academia or research roles.
To be eligible for an online DNP program in the nurse practitioner specialty of your choice, you will generally need to meet the following requirements:
Hold a BSN or MSN (depending on the DNP program type) from an accredited institution
Current, unencumbered RN license
Minimum GPA of 3.0
At least one year of full-time practice as an RN preferred
Submit official transcripts from all colleges attended
Submit professional resume or CV
Submit essay or written goal statement
Submit 3 letters of reference
Interview may be required
Exact requirements will differ depending on the school and specialty chosen.
DNP Nurse Practitioner Bridge Programs
Whether you start your DNP with a BSN or an MSN degree, there are online program options available to you. The most common DNP bridge programs include the following:
BSN to DNP Programs
Nurses who plan to advance their nursing education likely choose a BSN to DNP or an MSN to DNP program. The BSN to DNP program also referred to as a Post-Baccalaureate DNP program, provides a pathway for students who hold a BSN degree to complete their doctorate nursing studies. These programs may culminate in both an MSN and a DNP, or just the DNP designation. This pathway typically takes 3-4 years to complete, including coursework and clinical requirements.
MSN to DNP Programs
MSN to DNP programs, or Post-Master's DNP programs, offer MSN-prepared nurses a pathway to complete the DNP curriculum. These generally take 1-2 years to complete and often allow the nurse to go more in-depth in the area of care that they have experience in. For MSN-prepared nurses who want to change specialties or add a specialization, the post-graduate NP certificate is a shorter, cheaper route, but will not result in an additional degree.
Reasons to Get an Online DNP Nurse Practitioner Degree
Choosing to get a nurse practitioner DNP is a very personal choice for nurses. It can take them to new levels in the specialty of their choosing and open up just about any employment door that an NP could want. Let's take a look at some of the reasons why a nurse would want to pursue a DNP.
Nurses that choose to pursue an online nurse practitioner DNP Degree often seek to improve their earnings. They want to increase their skills, and to help assure optimal patient outcomes. While a DNP isn't required to become a nurse practitioner, it can open up many opportunities when looking for work. Find out more about the pros and cons of getting a DNP here.
Another reason to pursue an online nurse practitioner DNP degree is the fact that healthcare is a rapidly changing, increasingly complex profession. The American Association of Colleges of Nursing (AACN) explains that this requires a higher level of educational preparation. Nurses likely want to increase their ability to meet the evolving changes and advances in nursing.
Nurses who know they want to enter leadership and executive roles often gravitate to a terminal degree such as the DNP so that they can become decision-makers and influence an organization's personnel strategies and policy integration.
Those with a passion for education and teaching may be well-suited for the DNP degree. While the Ph.D. in Nursing is typically the academic-focused degree, many who wish to educate in clinical environments away from a university (such as a hospital or in public health) find that the DNP is a perfect fit.
What Online DNP Nurse Practitioner Program Specialties are Available?
Nursing students who decide on the DNP pathway have many nurse practitioner specialties that they can choose from. Common DNP-level NP specialization options include:
Cardiology Nurse Practitioner
Critical Care Nurse Practitioner
Dermatology Nurse Practitioner
Forensic Nurse Practitioner
Functional Medicine Nurse Practitioner
Holistic Nurse Practitioner
Occupational Health Nurse Practitioner
Oncology Nurse Practitioner
Orthopedic Nurse Practitioner
Palliative Care Nurse Practitioner
Public Health Nurse Practitioner
Surgical Nurse Practitioner
Trauma Nurse Practitioner