Best Online MSN Nurse Practitioner Programs
Last Updated/Verified: Sep 11, 2023
Obtaining a Master of Science in Nursing (MSN) online nurse practitioner degree provides registered nurses with the education to increase their career opportunities. The nurse practitioner is a licensed leader in nursing practice, and the MSN is just one-degree route to this high-level professional nursing role.
Learn the requirements to become a nurse practitioner via an MSN degree, and detailed information regarding specialties within the profession.
Compare the 2023 Top Ranked Online MSN Programs
Many nurses describe their profession as a calling. To this end, many nurses wish to continuously advance their education so that they can provide an even higher level of care. Those considering MSN programs to enter a variety of nurse practitioner specialties are advised to choose a great program to set them up for success. With the abundance of program options, it can be difficult to make the right decision. Add online program options and things can get even more challenging. That's why we have ranked the best online MSN programs in the country below. To learn more about how we developed our rankings, check out our Methodology page.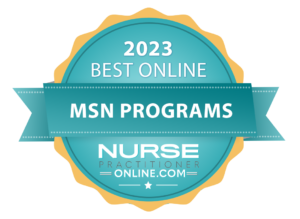 Definition: What Is an Online MSN Nurse Practitioner Degree?
The online nurse practitioner MSN degree program allows nurses to complete program requirements online, rather than in the traditional classroom. Some programs potentially require a face-to-face clinical or practicum.
The online nurse practitioner MSN program has strict admission requirements. Some general requirements for admission to a nurse practitioner MSN program include:
Graduate of an accredited BSN program (or ADN program for RN to MSN bridge program option)
Submit proof of current RN licensure
Submit transcripts from all colleges previously attended, demonstrating a minimum of a 3.0 out of 4.0 (GPA) in an undergraduate degree
Provide required letters of recommendation
Submit current resume or Curriculum Vitae
Online nurse practitioner MSN programs may have additional requirements specific to the school or specialty.
MSN Nurse Practitioner Accelerated & Bridge Programs
Bridge programs and other direct-entry and accelerated nurse practitioner programs are a great way for prospective nurse practitioners to achieve an MSN degree in a timely fashion. There are a few online program options for motivated nurses who know they wish to become nurse practitioners via an MSN degree:
ADN to MSN Nurse Practitioner Programs
While many online MSN nurse practitioner programs require that the student already hold a BSN degree, there are some bridge program options for RNs who hold an Associate's Degree in Nursing (ADN) or a nursing diploma. These programs may culminate in the student earning both a BSN and an MSN, or the student may earn just an MSN degree.
The advantage to enrolling in an ADN to MSN bridge program is that the student will be able to earn their graduate degree much faster and for much less money than going through a separate BSN program and then moving on to an MSN degree. Most online ADN to MSN bridge programs are designed to be completed in just 24 months of dedicated study.
Accelerated RN to MSN Nurse Practitioner Programs
Accelerated MSN programs are typically open to nurses who hold an active RN license and a bachelor's degree in a non-nursing subject. These students typically spend 2-4 years in the program (depending on the NP specialty and whether they attend the program part-time or full-time) and move through coursework at a faster pace than a traditional program. These programs are suited for especially motivated students who aim to practice in high-level NP roles.
Master's Entry to Nursing Practice (MENP) Programs
The Master's Entry to Nursing Practice (MENP) pathway, also sometimes referred to as a Master's Entry Program in Nursing (MEPN), allows students with a non-nursing bachelor's degree and no RN licensure or prior nursing experience to become high-level nursing professionals. This rigorous degree prepares students for RN licensure as well as advanced-practice nursing in various NP specialties. These programs are generally full-time and intensive and can be completed in around 2 years.
Reasons to Get an Online MSN Nurse Practitioner Degree
Nursing students have several options when it comes to nurse practitioner degree levels. Many decide on the MSN route for personal, financial, and professional reasons. Other common reasons to choose an MSN-level NP program include:
Nurses that complete an online MSN nurse practitioner degree have the ability to continue working, compared to restrictions of a traditional MSN nurse practitioner program.
Savvy nurses sometimes discover online nurse practitioner programs that offer a pathway to a dual degree. This allows nurses to reach their career goals in considerably less time than if completing only one program.
The MSN pathway is generally the shortest pathway to a Nurse Practitioner education, compared to earning a Post-Graduate NP Certificate (which requires a prior MSN) or a Doctor of Nursing Practice (DNP) degree, which is a longer and more in-depth program pathway.
Online MSN degree programs are widely available in many specialties. Students have a wealth of choices as this is a popular graduate degree pathway for NPs.
Other reasons for pursuing the online nurse practitioner MSN degree, in addition to earning a higher salary, include the fact that nurses often wish to specialize in a particular area of interest.
What Online MSN Nurse Practitioner Program Specialties are Available?
The American Association of Nurse Practitioners (AANP) reveals that there are more than 1.6 billion visits to nurse practitioners annually in the U.S. Many schools recognize the profound need for nurse practitioners to be highly educated in specific areas of practice and offer a variety of online nurse practitioner MSN program options. Popular MSN-level nurse practitioner specialty areas include:
Cardiology Nurse Practitioner
Critical Care Nurse Practitioner
Dermatology Nurse Practitioner
Forensic Nurse Practitioner
Functional Medicine Nurse Practitioner
Holistic Nurse Practitioner
Occupational Health Nurse Practitioner
Oncology Nurse Practitioner
Orthopedic Nurse Practitioner
Palliative Care Nurse Practitioner
Public Health Nurse Practitioner
Surgical Nurse Practitioner
Trauma Nurse Practitioner