Online Post-Master's Nurse Practitioner Programs – What's the Best Online NP Graduate Certificate Program for You?
Last Updated/Verified: Sep 11, 2023
Compare the 2023 Top Ranked Online Post-Master's NP Certificate Programs
Post-Master's Certificates have grown in popularity amongst NPs who wish to switch or expand their specializations. Choosing to pursue a certificate to enhance an advanced nursing career is a big decision, and choosing the right school is an extremely important part of it. As online program options become even more popular, many students have added the possibility of distance-learning to their decision-making. This is why we have analyzed and ranked the best online post-master's nurse practitioner certificate programs in a range of specialties across the nation. Check out the list below, and learn more about our rankings process here.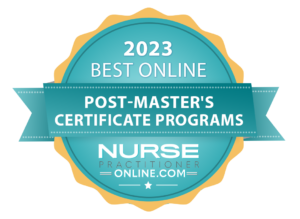 Definition: What Is an Online Post-Master's Nurse Practitioner Certificate?
The post-master's nurse practitioner certificate program (sometimes referred to as a post-graduate certificate program) allows registered nurses to further their careers and pursue board certification in any of the specialty nurse practitioner fields the student desires, such as Family Nurse Practitioner (FNP), Adult-Gerontology Nurse Practitioner (AGNP), and Women's Health Nurse Practitioner (WHNP), amongst others.
Students must hold a graduate nursing degree (MSN or higher) from an accredited university in the United States and have a current registered nurse (RN) license to be eligible for consideration. Some programs also require current APRN certification.
Reasons to Get an Online Post-Master's Nurse Practitioner Certificate
Post-master's nurse practitioner graduate certificate programs can be a great choice for the right nurse in the right circumstance. Let's take a look at some of the reasons why a post-master's NP certificate program might be the best choice for you.
Online post-master's nurse practitioner certificates are a flexible, reliable, and convenient method for nurses to pursue specialized nursing like pediatric care, mental health, adult-gerontology care, or family nurse practitioner certification.
Nurse students can further their careers and education without having to commute to campus. They can work any hours, even a work schedule that is not typical. The flexibility of online programs allows students to work as they continue learning and maintain a life/work balance.
Nurse students who decide to obtain their NP certificate are typically interested in a specialty field. Having extensive knowledge and skill sets allows nurses to earn a higher wage, and the specialized advanced training will enable them to provide their patients with the care they need.
Once nursing students have graduated, they will have more career options available to them. The post-master's nurse practitioner program is an alternative to a lengthier and more expensive full degree program such as a doctorate (DNP). Nursing students may decide to pursue a doctorate later on.
A post-graduate certificate is ideal for RNs who already hold an MSN but who want to change or add an additional specialty without having to go through a full degree program.
What Types of Online Post-Master's Nurse Practitioner Graduate Certificates Are Available?
Obtaining a post-master's grad certificate provides nurses an educational path to strengthen their capabilities, further their careers, and earn higher salaries. Many American post-graduate certificate programs require between 12-36 credits of work, including clinical hours to satisfy the degree requirements. Programs can vary in length and requirements – some can be achieved in less than a year while others can take over two years. The number of credits needed can lengthen or shorten the nursing program, so students will have to do some research.
Common post-master's nurse practitioner specialties include:
Cardiology Nurse Practitioner
Critical Care Nurse Practitioner
Dermatology Nurse Practitioner
Forensic Nurse Practitioner
Functional Medicine Nurse Practitioner
Holistic Nurse Practitioner
Occupational Health Nurse Practitioner
Oncology Nurse Practitioner
Orthopedic Nurse Practitioner
Palliative Care Nurse Practitioner
Public Health Nurse Practitioner
Surgical Nurse Practitioner
Trauma Nurse Practitioner