Best Online Adult-Gerontology Nurse Practitioner (AGACNP & AGPCNP) Programs
Last Updated/Verified: Apr 25, 2023
Compare the 2023 Top Ranked Online AGNP Programs
Nurses with a passion for working for the adult and elderly populations often find that advancing their education through an Adult-Gerontology Nurse Practitioner (AGNP) program is a satisfying and advantageous route. With multiple degree options, including the MSN, Post-Master's Certificate, and DNP, there's a program for everyone. With online NP programs growing in popularity, we have ranked the top online AGNP programs across the nation to help prospective students find a great fit. Check out our rankings below, and visit our methodology page to see how we calculated our rankings.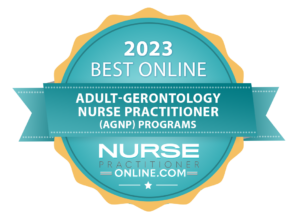 What Is an Online Adult-Gerontology Nurse Practitioner Program Like?
As the baby boomer population continues to age, the need for adult-gerontology nurse practitioners continues to grow. Choosing to get your graduate education in the field of adult-gerontology nursing is a smart move both for career satisfaction and job security. When you choose an online program, you're making it easier to earn your graduate-level degree while also continuing to provide top-notch patient care. While your online program may require some trips to campus, it will be far more flexible than attempting to go through a traditional classroom education while also working full-time as a nurse. You'll be able to learn on your own time, at your own pace. In most programs, you'll be able to choose whether you'd like to take classes full or part-time, making it easy to create a class schedule that makes sense for the hours you work each week.
Choosing an Appropriate Adult-Gerontology Nurse Practitioner Program
Choosing an appropriate adult-gerontology nurse practitioner program depends on your career starting place. For example, if you already hold a BSN, MSN programs and BSN to DNP programs may be right for you. However, if you are already a practicing nurse practitioner or have another graduate degree, a post-master's certificate program might be best for you. 
| If I Currently Have… | Option 1 | Option 2 |
| --- | --- | --- |
| BSN | BSN to MSN Programs | BSN to DNP Programs |
| MSN | Post-Master's Certificate | MSN to DNP Programs |
To see programs at each degree level, click the buttons below:
You may still be wondering which degree path is right for you. To narrow it down, define your specific mission in working with the broad adult-gerontology population and align your degree choice with the best option to reach that goal. Use the following table to help you define your goal and decide which degree path will lead you in the right direction. Choosing the best adult-gerontology nurse practitioner program for you also depends on your career goals. It is important to assess your long-term goals in terms of practice location, career advancement, as well as breadth of job opportunities you wish to explore. While specific degree types may not limit your opportunities, they may enhance your ability to qualify and succeed in particular nursing roles. 
MSN
Post-Master's Certificate
DNP
My passion is working directly as an adult-gerontology care nurse practitioner
X
X
X
I already hold a graduate degree, but I

wish to increase my skill set for providing excellent care to the adult-gerontology population

X
X
I feel called to teach and guide students clinically at the university level
X
X

I want to advocate for the at-risk gerontology population and be a leader in my facility

X
X
X

I have ideas for clinically relevant research projects to improve the lives of older adults

X
My passion is to create and improve national health policies
X

I wish to understand population-based adult-gerontology health in order to improve healthcare outcomes for adults across the nation

X

I want to guide healthcare law and ethics to improve the quality of life for older adults

X
It's vital to choose an accredited program when you're searching for an online adult-gerontology nurse practitioner program. Choosing an accredited program from organizations like the Accreditation Commission for Education in Nursing (ACEN) and the Commission on Collegiate Nursing Education (CCNE) ensures that you'll be eligible to sit for certification exams. Passing a certification exam is an important part of showing future employers that you're fully qualified to take on your new role as a nurse practitioner. Throughout the course of your adult-gerontology nurse practitioner program, you'll cover several topics, including health across the lifespan, pharmacology, physiopathology, how to care for older adults, and more. Find out more in our online Adult-Gerontology NP Program guide below.
Online Adult-Gerontology NP Program Admissions & Requirements by Degree Type
Online Adult-Gerontology NP Program Classes and Curriculum
Clinical Requirements and Certification
When you look at the requirements for online adult-gerontology nurse practitioner programs, you may feel overwhelmed, especially if you don't fit all of the qualifications. Remember, the admissions guidelines are a best-case scenario for the program. Often, schools are willing to look at your application to see if you're a well-rounded candidate, even if you're not sure you exceed every requirement (for example, if you don't have the minimum GPA, some schools may be willing to grant you provisional admission). There are three types of graduate programs for budding adult-gerontology nurse practitioners: MSN, post-master's certificate, and DNP.
Online Adult-Gerontology NP Program Admissions
| | MSN-Level Adult-Gerontology NP | Post-Master's Certificate Adult-Gerontology NP | DNP-Level Adult-Gerontology NP |
| --- | --- | --- | --- |
| Prior Education/GPA | BSN with a GPA of at least 3.0 | MSN with a GPA of at least 3.0 | MSN with a GPA of at least 3.0, some DNP programs may admit students with a BSN with a GPA of at least 3.0 |
| RN Licensure | Current, unencumbered RN license | Current, unencumbered RN license | Current, unencumbered RN license; APRN certification may be required |
| Professional Experience | At least one year of experience as an RN | At least one year of experience as an RN | At least one to two years of experience as an RN, may require experience in adult-gerontology |
| Written Requirements | Personal statement, three letters of recommendation | Personal statement, three letters of recommendation | Personal statement, professional resume or CV, three letters of recommendation |
Online Adult-Gerontology NP Curriculum & Classes
During your online adult-gerontology NP curriculum, you'll learn about health care issues specific to older adults. You'll talk about how health care for an aging population is different than the general population, and you'll study the latest research on how best to care for geriatric patients. Courses and the duration of the program will depend on the degree level chosen and the level of education/prior experience the nurse comes into the program with. Generally, an MSN program will take around 2 years to complete, a post-grad certificate will take around a year, and a doctoral program such as the DNP can take as little as 3 and as many as 7 years to complete.
Adult-gerontology specialty MSN, post-master's certificate, and DNP programs differ in both the number of course credits and the number of clinical hours required.
| Degree | MSN | Post-Master's Certificate | DNP |
| --- | --- | --- | --- |
| Average Credit Requirements | 41 | 29 | 62 |
Both MSN to DNP and BSN to DNP programs are common, with the latter essentially combining MSN and DNP credit requirements. Many nurses choose to take classes part-time, allowing them to continue to work full time. If you choose this option, be sure to check with your school on how much time you have to complete your coursework. Many schools allow up to 7 years to complete a degree program.
Coursework for adult-gerontology MSN and post-master's programs are similar in that the focus is primarily on nurse practitioner core classes and concentrated adult and gerontology courses. MSN and DNP students can also expect courses focusing on:
Health Policy

Evidence-Based Practice

Leadership
DNP students will also take advanced courses in:
Research

Ethics

Epidemiology

Biostatistics
General classes in an online adult-gerontology NP program are likely to include:
Advanced health assessment
Advanced pathophysiology
Health promotion and disease prevention
MSN students often produce a final thesis highlighting their understanding of patient-level adult-gerontology issues, integration of evidence-based standards of care, and promotion of healthy outcomes. A DNP scholarly project is an ongoing effort in which students assimilate concepts related to population-based health, technology, evidence-based clinical practice, and health care policy. The most important aspect of the DNP scholarly project is the focus on a clinical question relevant in the real-world.
Adult-Gerontology NP Clinical Requirements
Most schools require at least 600 hours of clinical practice, while some schools may require more. BSN to DNP students may need to take up to 1100 clinical hours over the course of the program. Your school will work with you to help you find a clinical practice site that's convenient for you. You may choose to complete all of your hours at one setting, or separate your hours between multiple settings to give you a wide breadth of experience. If you're struggling to figure out a way to make your clinical hours work with your schedule, be sure to talk with your program advisor. They'll be able to work with you to find a way to make your program doable with your schedule and other responsibilities.
Suitable clinical sites for adult-gerontology NP students can include hospitals, nursing homes, community health centers, medical clinics, and more. Generally, NP students will complete clinical hours under the supervision of an experienced adult-gerontology NP, physician's assistant, or medical doctor.