Online Post-Master's Adult Gerontolgy NP Programs – What's the Best Program for You?
Last Updated/Verified: Dec 17, 2021
Master's-prepared nurses who wish to enter the Adult-Gerontology Nurse Practitioner (AGNP) specialty at either the acute care or primary care level can save money and time by enrolling in an AGNP post-master's certificate program (also sometimes referred to as a post-graduate certificate program). Prior to earning a post-master's certificate, students need to have some work experience as a nurse. An MSN and a current RN license are the most typical requirements for this pathway.
Compare the 2021 Top Ranked Online AGNP Post-Master's Certificate Programs
For current APRNs considering entry into the Adult-Gerontology Nurse Practitioner (AGNP) specialty, an online AGNP Post-Master's Certificate program can be the perfect pathway. These certificate programs make it easy to switch focus areas swiftly and affordably. Choosing the right program, however, can be challenging. That's why we've ranked the top online AGNP Post-Master's Certificate programs across the country. For more information on our rankings, visit our Methodology page.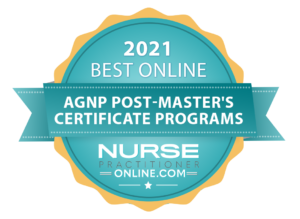 Why Get a Post-Master's Adult-Gerontology NP Certificate?
Obtaining a post-master's certificate as an adult-gerontology nurse practitioner allows you to specialize in an area of practice that holds exceptional opportunities for advancement. Choosing to specialize in a particular population also means that you can work with those that provide you with the most pleasure. AGNPs who hold a post-master's certificate may find employment in:
Internal medicine
Ambulatory care
Long-term care
Rehabilitation centers
Community health clinics
Before deciding on this route to the AGNP specialty, there are several factors to consider.
Pros
Shortest, most cost-effective route to become an AGNP for nurses who hold an MSN already
Good choice for MSN-prepared nurses who aren't sure they want to commit to a DNP
Great way to an advance a career without having to pursue a full degree program
Cons
Those who eventually want to earn a DNP may be better off skipping the post-grad cert and entering one directly
May not hold the same prestige as a full degree in the specialty
If research and/or teaching is the end-goal, a DNP may be the better choice
How to Choose an Online Post-Master's Adult-Gerontology NP Certificate Program
If you're like many nurses, you plan to continue working as you pursue your AGNP post-graduate certificate. Choosing an online program that doesn't require on-site visits to the college campus is likely to fulfill your needs. It's a good idea to make sure the online AGNP post-master's certificate program you choose is properly accredited.
Prospective students should also decide whether they want to pursue an Adult-Gerontology Primary Care Nurse Practitioner certificate or an Adult-Gerontology Acute Care Nurse Practitioner certificate. Both options are regularly available at the post-master's certificate level.
While you might think that a shorter course is best because it allows you to put your certificate to use more quickly, ensure that it meets the requirements that are necessary for licensure and/or certification. Another consideration is figuring out how the program handles the clinical experience. Will you need to find your own facility or does the program have contracts with clinics or hospitals in your area, for example.
Post-Master's AGNP Certificate Curriculum
The exact curriculum you'll complete as part of attaining your adult-gerontology nurse practitioner post-master's certificate depends on the particular requirements of the college and the program itself, especially if you choose to subspecialize in Acute or Primary Care. It's likely that if you did not complete advanced physiology, advanced pharmacology, and advanced health assessment as part of your master's degree, then you'll need to do so in order to earn your certificate. Other courses that you might take include:
Acute Care of the Adult
Primary Care of the Adult Patient
Specialty courses in areas such as neurology or oncology
Clinical requirements may vary by state, but post-grad certificate AGNP students generally need to complete around 625 clinical hours in the specialty. These clinical rotations can be arranged in the student's hometown, or even at their place of employment. Preceptors must be approved by the school before rotations can take place.
List of Online Adult-Gerontology Nurse Practitioner Post-Master's Certificate Programs
To see available online Adult-Gerontology Nurse Practitioner Post-Master's Certificate programs near you, check out our listings below.
Select Your State:
Arizona
| | |
| --- | --- |
| University of Arizona | |
California
| | |
| --- | --- |
| Brandman University | |
Colorado
| | |
| --- | --- |
| University of Colorado | |
| University of Northern Colorado | |
Florida
| | |
| --- | --- |
| Barry University | |
| University of Central Florida | |
Georgia
| | |
| --- | --- |
| Augusta University | |
| Georgia State University | |
Idaho
| | |
| --- | --- |
| Boise State University | |
Indiana
| | |
| --- | --- |
| University of Southern Indiana | |
Iowa
| | |
| --- | --- |
| Graceland University | |
| Morningside University | |
| University of Iowa | |
Kansas
| | |
| --- | --- |
| University of Kansas | |
Kentucky
| | |
| --- | --- |
| University of Kentucky College of Nursing | |
Massachusetts
| | |
| --- | --- |
| Regis College | |
| University of Massachusetts Boston | |
Michigan
| | |
| --- | --- |
| Eastern Michigan University | |
| University of Detroit Mercy | |
Missouri
| | |
| --- | --- |
| Maryville University | |
| University of Missouri - St. Louis | |
Nebraska
| | |
| --- | --- |
| Clarkson College | |
| Creighton University | |
New Jersey
| | |
| --- | --- |
| Monmouth University | |
| Seton Hall University | |
New Mexico
| | |
| --- | --- |
| The University of New Mexico | |
New York
| | |
| --- | --- |
| Stony Brook University | |
North Carolina
| | |
| --- | --- |
| University of North Carolina at Charlotte | |
Ohio
| | |
| --- | --- |
| Case Western Reserve University | |
Pennsylvania
| | |
| --- | --- |
| Drexel University | |
South Carolina
| | |
| --- | --- |
| University of South Carolina | |
Tennessee
| | |
| --- | --- |
| The University of Tennessee at Chattanooga | |
| The University of Tennessee Health Science Center- Memphis | |
Vermont
| | |
| --- | --- |
| Norwich University | |
Washington, DC
| | |
| --- | --- |
| The George Washington University | |
Wisconsin
| | |
| --- | --- |
| Concordia University Wisconsin | |