Nurse Practitioner Practice Authority
Last Updated/Verified: May 11, 2023
Nurse Practitioners (NPs) are advanced-practice registered nursing professionals who can perform some of the same duties as medical doctors. Their scope of practice is defined by the state in which they practice, with some states requiring supervision from a physician. Be sure to understand whether your state has full practice authority (FPA) or supervised practice authority and what that entails before making a final decision regarding your career path.
Definition: What Is Practice Authority?
Full practice authority is the highest level of practice granted to NPs in the states that allow them to practice without physician supervision. According to the American Association of Nurse Practitioners (AANP), there are three distinct categories of FPA versus supervised practice authority, as follows:
Full Practice
In 28 states, as well as the District of Columbia, nurse practitioners have full practice authority. This means that NPs can evaluate, diagnose, and order diagnostic tests. They can also manage patient treatment by prescribing medications under the state Board of Nursing. This FPA model is recommended by the National Council of State Boards of Nursing as well as the National Academy of Medicine. The U.S. Department of Veterans Affairs (VA) has also permitted full practice authority to APRNs including nurse practitioners.
Reduced Practice
Under this form of supervised practice authority, state laws reduce the role of NPs in one or more aspects of their practice. Under reduced practice status, NPs must collaborate with another health provider, typically a physician, to provide patient care. Some states may also limit the setting in which nurse practitioners can practice.
Restricted Practice
Under restricted practice authority, a state's licensure laws restrict an NP's ability to act in one or more elements of their practice. Nurse practitioners require career-long supervision or team management in order to provide care.
Practice Authority by State
Knowing your state's level of practice authority will give you a better idea of what kind of role you'll be able to perform as an NP. Check the map below to find out what kind of nurse practitioner practice authority your state permits: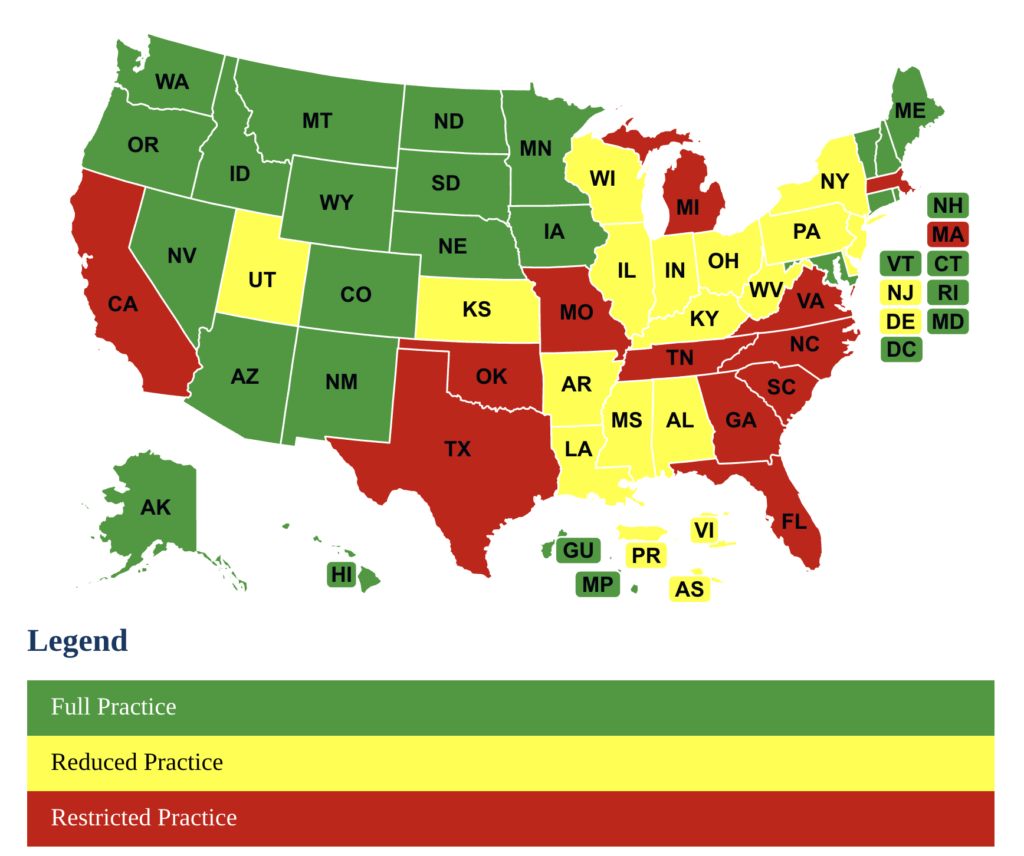 Pros and Cons of Being an NP with Full Practice Authority
According to the U.S. Bureau of Labor Statistics, there is a great need for nurse practitioners, with job growth projected at 26%, far higher than the average for all jobs. With an average salary of over $55 an hour, there are a lot of pros to this job. However, there are both pros and cons associated with being an NP with full practice authority.
Pros of Being a Nurse Practitioner with FPA
We already mentioned the lucrative salary associated with the role, which makes this a solid job choice.
NPs receive the same professional recognition as physicians and perform many of the same roles. Nurse practitioners can head departments, serve on boards, teach, and become provosts.
There are tangible and intangible rewards for working in medicine and those who want to give to others can truly make a difference. As an RN, there is much to gain from transitioning to a nurse practitioner role, including a wider scope of practice.
Cons of Being a Nurse Practitioner with FPA
You can expect to work long hours as an NP with an expanded role. This can make it hard to coordinate family time and pursue other interests and may result in chronic fatigue.
There is currently a shortage of nurses and doctors, meaning that nurse practitioners typically carry a large patient load on a daily basis. Overwork can lead to stress and anxiety.
FPA NPs often perform the same care as physicians but make much less money. This makes the role less attractive to some RNs considering their next career move.
If you are considering a career as a nurse practitioner, consider the practice authority in your state and think about shadowing a current NP. Extensively research what the job involves so that you can make an informed decision.
How Does an NP with Full Practice Authority Differ from a Physician's Assistant or Medical Doctor?
While nurse practitioners with FPA have a high level of responsibility and perform duties that overlap with other medical professionals, there are many differences between the roles of an NP versus a physician assistant (PA) or Medical Doctor. Consider the broad overview of each of these roles, below:
MD
The term physician denotes two degree types, an MD (doctor of medicine) or a DO (doctor of osteopathic medicine). The following general responsibilities will vary based on a doctor's specialty:
Diagnosing and treating illness or injury
Documenting medical histories
Updating charts with current findings and treatment changes
Prescribing diagnostic tests for other healthcare professionals to conduct
Reviewing test results
Prescribing treatment plans
Addressing concerns that patients have regarding their health
NP
Nurse practitioners start as RNs and take additional training to become NPs. Besides the duties of a regular RN, nurse practitioners perform the following functions:
Ordering and interpreting diagnostic tests including X-rays and labwork
Treating acute and chronic conditions such as high blood pressure, diabetes, injuries and infections
Prescribing medications (with FPA or under supervision)
Co-ordinating patients' care
Counseling patients on disease prevention and positive lifestyle choices
PA
Physician assistants follow a separate educational path from NPs or MDs. Their duties may include:
Taking a client's medical history
Conducting exams
Ordering and interpreting tests
Developing treatment plans
Treating illnesses
Writing prescriptions
Counseling on preventive care
Making hospital and nursing home rounds
Assisting in surgery
Whereas an NP with full practice authority can work independently, PAs require formal supervision by a physician. The doctor doesn't have to be present, but the PA must be able to reach the doctor by telecommunication.
Related Articles