Online DNP Adult-Gerontology NP Programs – What's the Best Program for You?
Last Updated/Verified: Dec 17, 2021
Those who want to obtain the most prestigious roles as an Adult-Gerontology Nurse Practitioner (AGNP) often gravitate to a doctorate. As the highest degree, a nurse practitioner can attain — besides a Ph.D. — the Doctor of Nursing (DNP) pathway provides nurses with extensive experience with the education they need to attain leadership roles of all kinds. Most programs insist that you have already attained your master's degree before they will admit you, though some BSN-DNP AGNP programs are also available. All AGNP-DNP programs will require an active nursing license and at least a year of experience in the AGNP field.
Compare the 2021 Top Ranked Online AGNP DNP Programs
For nurses who wish to enter the most advanced nursing careers working with adult and elderly  patients, the Adult-Gerontology Nurse Practitioner DNP degree is a great program to consider. As schools continue to expand online educational offerings, prospective students may find that they have many wonderful distance-learning options to choose from. That's why we have ranked the best online AGNP DNP programs across the nation. Start your search with these exceptional schools and programs below, and to find out more about our rankings process visit our Methodology page.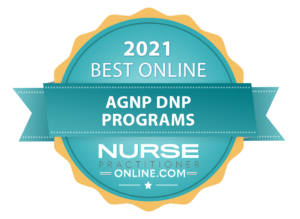 Why Get a DNP Adult-Gerontology NP Degree?
There are a number of reasons why a DNP degree is an attractive option for a dedicated nurse practitioner. Because it involves a significant commitment of time, money, and effort, earning this degree demonstrates your dedication to the industry.
With the knowledge you've learned and the clinical hours you'll have to complete in order to be awarded a DNP, you'll have access to nearly any job within the industry. This could mean a leadership role at a private practice, at a research facility, or at a hospital. Before deciding on this degree pathway, students should consider the following:
Pros
Access to the highest level positions as an AGNP are reserved for those who hold a DNP
DNPs command high salaries
Leadership, administrative/managerial, and research roles are all options for AGNPs with a DNP
Cons
Those with an MSN may decide that the shorter, cheaper post-master's certificate in the AGNP specialty fulfills their needs
Those with a BSN may find they can meet their professional goals by pursuing an MSN rather than a DNP
The DNP pathway can be very challenging, lengthy, and expensive
How to Choose an Online DNP Adult-Gerontology NP Program
In order to meet the needs of busy nurse practitioners, many programs' educational facilities offer their AGNP-DNP programs as a part-time option, or they provide an accelerated format. Depending on your personal work schedule and life responsibilities, it might be best to choose a program that offers all classes online.
Students entering this pathway are encouraged to choose a properly accredited AGNP-DNP program. In addition to this, nurses should know whether they wish to pursue a DNP program in the Adult-Gerontology Primary Care Nurse Practitioner specialty, or the Adult-Gerontology Acute Care Nurse Practitioner specialty. Many schools offer both options.
DNP AGNP Curriculum
The DNP curriculum is diverse and far-ranging. It provides students with extensive knowledge of patient aspects of the industry as well as policy, research, prevention, and more. Common AGNP courses in the DNP program include:
Interprofessional Collaboration with Professionals and Patients
Advanced Nursing Practice and Clinical Scholarship
Improving Patient and Population Health Outcomes
Analytical Methods for Evidence-Based Practice
Over 1,000 clinical hours are typically required for doctorate adult-gerontology nurse practitioner programs. Most schools have a clinical coordinator or advisor to help students arrange preceptors for these requirements. For those already working in the field, clinical hours can often be completed in your place of employment.
List of Online DNP Adult-Gerontology Nurse Practitioner Programs
Finding an online/hybrid DNP Adult-Gerontology Nurse Practitioner program near you is a snap with our listings. Browse the programs below to get started.
Select Your State:
Arizona
| | |
| --- | --- |
| University of Arizona | |
Arkansas
| | |
| --- | --- |
| University of Arkansas | |
| University of Arkansas for Medical Sciences | |
California
| | |
| --- | --- |
| Brandman University | |
| Loma Linda University | |
Colorado
| | |
| --- | --- |
| University of Northern Colorado | |
Delaware
| | |
| --- | --- |
| University of Delaware | |
Georgia
| | |
| --- | --- |
| Augusta University | |
Hawaii
| | |
| --- | --- |
| Hawai'i Pacific University | |
Illinois
| | |
| --- | --- |
| Rush University | |
| University of Illinois at Chicago (UIC) | |
| University of Illinois College of Medicine at Rockford | |
Indiana
| | |
| --- | --- |
| Saint Mary's College | |
Iowa
| | |
| --- | --- |
| University of Iowa | |
Kansas
| | |
| --- | --- |
| University of Kansas | |
Kentucky
| | |
| --- | --- |
| Kentucky State University | |
| University of Kentucky College of Nursing | |
Maryland
| | |
| --- | --- |
| Johns Hopkins University | |
Massachusetts
| | |
| --- | --- |
| University of Massachusetts Amherst | |
| University of Massachusetts Boston | |
Michigan
| | |
| --- | --- |
| Wayne State University | |
Mississippi
| | |
| --- | --- |
| University Of Mississippi Medical Center | |
Missouri
| | |
| --- | --- |
| Maryville University | |
| University of Missouri - St. Louis | |
| University Of Missouri Kansas City | |
Nebraska
| | |
| --- | --- |
| Creighton University | |
New Mexico
| | |
| --- | --- |
| New Mexico State University | |
New York
| | |
| --- | --- |
| Hunter College | |
| Stony Brook University | |
| University at Buffalo | |
Ohio
| | |
| --- | --- |
| The University of Toledo | |
Pennsylvania
| | |
| --- | --- |
| University of Pittsburgh | |
Tennessee
| | |
| --- | --- |
| East Tennessee State University | |
| The University of Tennessee Health Science Center- Memphis | |
Washington
| | |
| --- | --- |
| University of Washington | |
Washington, DC
| | |
| --- | --- |
| The George Washington University | |