Online MSN Adult-Gerontology NP Programs – Selecting the Best Program
Last Updated/Verified: Dec 17, 2021
The Master's of Science in Nursing (MSN) pathway is a common online educational route for nurses who wish to enter the adult-gerontology nurse practitioner (AGNP) specialty. An aspiring adult-gerontology nurse practitioner who wishes to pursue an MSN degree typically already has experience working in the nursing field. In addition, most already hold a bachelor's degree. However, there are programs that address the needs of nurses who have earned an associate degree or that hold a general bachelor's degree. In any case, those who wish to pursue the AGNP specialty via an online MSN program need to have a current, unencumbered RN license, a GPA of 3.0 or above, and some clinical experience in the adult-gerontology field.
Compare the 2021 Top Ranked Online AGNP MSN Programs
For those looking to enter the Adult-Gerontology Nurse Practitioner specialty through a traditional MSN degree, online program options have made the process more accessible than ever. Finding the right program, though, can be challenging. That's why we have analyzed programs across the country and ranked our top picks. Browse the best online AGNP MSN programs below to find the perfect fit for you. To see how we developed our rankings, visit our Methodology page.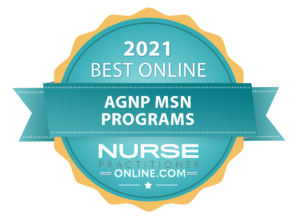 Why Get an MSN Adult-Gerontology Nurse Practitioner Degree?
Obtaining an adult-gerontology nurse practitioner MSN degree provides you with a broad swath of knowledge and skills. These arm you with the education you need to treat, diagnose, and work with adults over their lifespan. Because you'll work with a range of people ages 13 through seniors, the employment opportunities that are open to you are nearly endless. From correctional facilities and rehabilitation centers to college campuses and private practice offices, your diverse skills will be put to good use.
Whether you choose to pursue a primary care or acute care AGNP master's program, there are some things to consider with this degree type.
Pros
Easy to find both Adult-Gerontology Primary Care NP and Adult-Gerontology Acute Care NP programs at the MSN level
Online and hybrid programs readily available
Quickest route for nurses with a BSN
Cons
Curriculum won't emphasize administration/leadership the way a DNP program will
If research or teaching is the goal, students may wish to go directly to the DNP
How to Choose an Online MSN AGNP Program
When you are considering which online adult-gerontology nurse practitioner MSN program to enroll in, you'll probably focus on the credit hours needed, as well as the cost and the length of time the program will take you to complete. In general, 45 credit hours are the average number required for this type of degree. Many schools offer both full and part-time enrollment options, which will impact the length of time a student will need to complete the program. If you wish to further specialize in Acute or Primary Care, you'll need to look for a school that has an AGNP program with that emphasis.
You'll also want to ensure that the program is accredited. Many employers require this of anyone they hire. In addition, make note of any requirements for on-site visits – while many programs are offered in a fully online format, some schools offer hybrid programs that require some on-campus learning.
MSN AGNP Curriculum
The curriculum for an adult-gerontology nurse practitioner MSN degree will provide you with a rich foundation of knowledge that spans many aspects. You can expect to take courses such as:
Business of Healthcare: Finance
Advanced Skin and Wound Management
Advanced Continence Management
Around 700 clinical hours in the adult-gerontology field will be required as part of the MSN-AGNP curriculum, depending on your state. Clinical hours can take the form of on-campus intensives as well as rotations and residencies that involve direct patient care. Most schools have clinical coordinators who can help students secure placements in their local area; many students can even fulfill the clinical portion of the curriculum at the hospital or facility where they are currently employed.
List of Online MSN Adult-Gerontology Nurse Practitioner Programs
Finding an online or hybrid MSN-level AGNP program is easy with our school listings. Browse below to get started today!
Select Your State:
Alabama
| | |
| --- | --- |
| University of Alabama at Birmingham | |
| University of Alabama in Huntsville | |
| University of South Alabama | |
Arkansas
| | |
| --- | --- |
| University of Arkansas for Medical Sciences | |
| University of Central Arkansas | |
Colorado
| | |
| --- | --- |
| Colorado State University Pueblo | |
| University of Colorado | |
| University of Northern Colorado | |
Connecticut
| | |
| --- | --- |
| University of Connecticut | |
Florida
| | |
| --- | --- |
| Florida Atlantic University | |
Georgia
| | |
| --- | --- |
| Emory University | |
| Georgia State University | |
| Middle Georgia State University | |
Hawaii
| | |
| --- | --- |
| Hawai'i Pacific University | |
Idaho
| | |
| --- | --- |
| Boise State University | |
Illinois
| | |
| --- | --- |
| Lewis University | |
| Loyola University of Chicago | |
| Resurrection University | |
| Saint Francis Medical Center College of Nursing | |
| University of Illinois College of Medicine at Rockford | |
Indiana
| | |
| --- | --- |
| Indiana University - Purdue University Indianapolis | |
| University of Indianapolis | |
| University of Southern Indiana | |
Iowa
| | |
| --- | --- |
| Allen College | |
| Briar Cliff University | |
| Graceland University | |
| Morningside University | |
Kentucky
| | |
| --- | --- |
| Northern Kentucky University | |
Louisiana
| | |
| --- | --- |
| University of Louisiana at Monroe | |
Massachusetts
| | |
| --- | --- |
| Regis University | |
| University of Massachusetts Boston | |
Michigan
| | |
| --- | --- |
| Eastern Michigan University | |
| Michigan State University | |
| Oakland University | |
| Spring Arbor University | |
Mississippi
| | |
| --- | --- |
| University Of Mississippi Medical Center | |
Missouri
| | |
| --- | --- |
| Barnes-Jewish College Goldfarb School of Nursing | |
| Maryville University | |
| University Of Missouri Kansas City | |
Nebraska
| | |
| --- | --- |
| Clarkson College | |
New Jersey
| | |
| --- | --- |
| Felician University | |
| Monmouth University | |
| Seton Hall University | |
New Mexico
| | |
| --- | --- |
| The University of New Mexico | |
New York
| | |
| --- | --- |
| Hunter College | |
| Keuka College | |
| Mount Saint Mary College | |
| Stony Brook University | |
North Carolina
| | |
| --- | --- |
| Duke University | |
North Dakota
| | |
| --- | --- |
| University of North Dakota | |
Ohio
| | |
| --- | --- |
| Kent State University | |
| Malone University | |
| Ohio University | |
| University of Cincinnati | |
Pennsylvania
| | |
| --- | --- |
| Drexel University | |
| Duquesne University | |
| La Salle University | |
Rhode Island
| | |
| --- | --- |
| Rhode Island College | |
South Carolina
| | |
| --- | --- |
| University of South Carolina | |
Texas
| | |
| --- | --- |
| The University of Texas at Arlington | |
| The University of Texas Medical Branch at Galveston | |
| University of Texas School of Nursing at Houston | |
Vermont
| | |
| --- | --- |
| Norwich University | |
Virginia
| | |
| --- | --- |
| George Mason University | |
| Old Dominion University | |
Washington, DC
| | |
| --- | --- |
| Georgetown University | |
| The George Washington University | |
Wisconsin
| | |
| --- | --- |
| Concordia Wisconsin Campus | |