Online DNP FNP Programs – What's the Best Program for You?
Last Updated/Verified: Dec 17, 2021
A doctor of nursing practice (DNP) is the highest degree that a family nurse practitioner (FNP) can attain. Those wanting high levels of autonomy, responsibility, and salaries at the top of the pay scale should consider the DNP pathway in the family nurse practitioner specialty. This degree requires hundreds of clinical hours as well as advanced nursing coursework. To be eligible for this type of program, you'll need an active RN license, a BSN or MSN degree, and some professional nursing experience in the family care field.
Compare the 2021 Top Ranked Online FNP DNP Programs
The popularity and versatility of the Family Nurse Practitioner area of care mean that many nurses aspire to achieve the highest degree level within the specialty. With online and hybrid options becoming more common, it can be difficult to land on the perfect school for your doctoral FNP program. That's why we have ranked the best online DNP-level FNP programs in the country. Check out our listings below to find a great program, and visit our Methodology page to learn more about how we developed our rankings.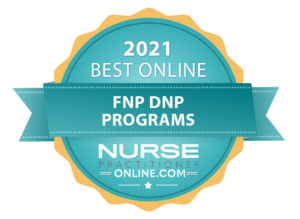 Why Get a DNP FNP Degree?
There has been a distinct shift toward family nurse practitioners opting to obtain their DNP degree. Some careers that today require an MSN might expect candidates to hold a DNP at some point in the future.
As a family nurse practitioner who holds a DNP, a range of direct and indirect patient care careers are available to you. These include FNP positions in hospitals, clinics, private practices, and more, as well as roles in hospital administration, research, and academia. FNP doctorate graduates may also choose to work in roles shaping policy and procedures to improve care outcomes and advance the nursing profession.
This type of terminal degree shows a significant commitment to attaining more knowledge and skills. Let's take a look at some of the key components of this degree type.
Pros
Family nurse practitioners who hold a DNP can command higher salaries
The DNP pathway opens up options for high-level managerial, research, and even teaching positions
Options for BSN to DNP and MSN to DNP
Cons
DNP programs in the FNP specialty can be long and expensive
Those with an MSN may wish to pursue a shorter post-graduate certificate in the specialty instead (depending on their career goals)
ADN-educated RNs will most likely need to complete a BSN before they can consider this pathway
How to Choose an Online DNP FNP Program
In terms of advanced degrees for family nurse practitioners, a DNP is the lengthier option. The number of credits can range between 70 and 93, depending on the school you attend and the degree level you enter the program with. More educational facilities are offering DNP programs online, with some of them delivered in a hybrid format that weaves in some campus visits.
Students searching for an online DNP program in the family nurse practitioner specialty should take great care to choose an accredited program to ensure future employability. Many online DNP programs can be taken on a part-time or full-time basis, allowing some students to continue working while they complete their doctorate studies. However, the challenging nature of the program may make working difficult; some schools recommend committing to the program full-time.
DNP FNP Curriculum
The family nurse practitioner DNP curriculum includes intensive core and specialty nursing courses. BSN to DNP programs usually require more core coursework before the FNP portion can begin. Common courses students might encounter include:
Clinical reasoning
Healthcare economics
Health informatics
Social determinants of health
Typically, a minimum of 1,000 clinical hours are required as part of the FNP-DNP program. These may include family care clinical hours as well as DNP practicum hours. Clinical placements for online students are usually arranged in the student's local area and approved by the program's clinical coordinator. A DNP project or capstone course may also be required in order to graduate.
List of Online DNP Family Nurse Practitioner Programs
To find an online or hybrid DNP family nurse practitioner program near you, browse through our listings below.
Select Your State:
Alabama
| | |
| --- | --- |
| Samford University | |
| The University of Alabama | |
Arizona
| | |
| --- | --- |
| University of Arizona | |
Arkansas
| | |
| --- | --- |
| University of Arkansas | |
| University of Arkansas for Medical Sciences | |
California
| | |
| --- | --- |
| Brandman University | |
| Loma Linda University | |
| Touro University California | |
| University of California, Irvine | |
Colorado
| | |
| --- | --- |
| University of Northern Colorado | |
Delaware
| | |
| --- | --- |
| University of Delaware | |
Florida
| | |
| --- | --- |
| Palm Beach Atlantic University | |
Georgia
| | |
| --- | --- |
| Augusta University | |
Hawaii
| | |
| --- | --- |
| Hawai'i Pacific University | |
Idaho
| | |
| --- | --- |
| Idaho State University | |
Illinois
| | |
| --- | --- |
| Bradley University | |
| Rush University | |
| Southern Illinois University Edwardsville | |
| University of Illinois at Chicago (UIC) | |
| University of Illinois College of Medicine at Rockford | |
Indiana
| | |
| --- | --- |
| Marian University Indianapolis | |
| Saint Mary's College | |
Iowa
| | |
| --- | --- |
| Clarke University | |
| University of Iowa | |
Kansas
| | |
| --- | --- |
| University of Kansas | |
| Washburn University | |
Kentucky
| | |
| --- | --- |
| Western Kentucky University | |
Maryland
| | |
| --- | --- |
| Johns Hopkins University | |
Massachusetts
| | |
| --- | --- |
| University of Massachusetts Amherst | |
| University of Massachusetts Boston | |
Michigan
| | |
| --- | --- |
| Northern Michigan University | |
| Saginaw Valley State University | |
| Wayne State University | |
Minnesota
| | |
| --- | --- |
| Augsburg College | |
Mississippi
| | |
| --- | --- |
| University Of Mississippi Medical Center | |
Missouri
| | |
| --- | --- |
| Maryville University | |
| Missouri Online | |
| University of Missouri - St. Louis | |
| University Of Missouri Kansas City | |
Montana
| | |
| --- | --- |
| Montana State University | |
Nebraska
| | |
| --- | --- |
| Creighton University | |
New Mexico
| | |
| --- | --- |
| New Mexico State University | |
New York
| | |
| --- | --- |
| Hunter College | |
| University at Buffalo | |
North Carolina
| | |
| --- | --- |
| University of North Carolina Wilmington | |
| Winston-Salem State University | |
Ohio
| | |
| --- | --- |
| Otterbein University | |
| The Ohio State University | |
| The University of Toledo | |
Oregon
| | |
| --- | --- |
| University of Portland | |
Pennsylvania
| | |
| --- | --- |
| Messiah University | |
| University of Pittsburgh | |
South Carolina
| | |
| --- | --- |
| Anderson University | |
Tennessee
| | |
| --- | --- |
| East Tennessee State University | |
| The University of Tennessee Health Science Center- Memphis | |
Texas
| | |
| --- | --- |
| Baylor University | |
| Texas A&M University-Commerce | |
| Texas Christian University | |
| Texas Tech University | |
Utah
| | |
| --- | --- |
| Weber State University | |
Washington
| | |
| --- | --- |
| Gonzaga University | |
| University of Washington | |
| Washington State University | |
| Washington State University Vancouver | |
Washington, DC
| | |
| --- | --- |
| The George Washington University | |
West Virginia
| | |
| --- | --- |
| Shepherd University | |