Online Post-Master's FNP Programs – What's the Best Program for You?
Last Updated/Verified: Dec 17, 2021
It's not uncommon for master's-prepared nurses to add or change a nurse practitioner specialty. As a nurse who has already earned a Master's of Science in Nursing (MSN), you can now obtain a Family Nurse Practitioner (FNP) post-master's certificate. This type of advanced certificate — which might also be called a post-graduate certificate — is designed to provide you with specialized knowledge geared toward the family nurse practitioner concentration. This program pathway often requires that the student hold an active, unencumbered RN license (and sometimes APRN certification) in order to enroll.
Compare the 2021 Top Ranked Online FNP Post-Master's Certificate Programs
For advanced-practice RNs who wish to switch or add a specialty as a Family Nurse Practitioner (FNP), the post-master's certificate route is an increasingly popular pathway. Choosing the right program, however, is an important consideration. With online certificate programs popping up all over the country, prospective students need to pick wisely. Below, we've ranked the best online FNP Post-Master's Certificate programs to help you find the right school for you. For more information on how we developed our rankings, visit our Methodology page.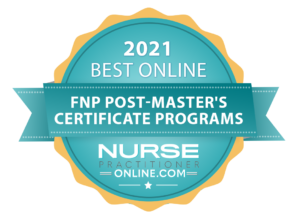 Why Get an FNP Post-Master's Certificate?
While a family nurse practitioner MSN provides you with a broad and generalized scope of knowledge, the FNP post-master's certification is more specialized and takes your prior education into account. Obtaining a post-grad certificate also allows you to add another specialty to your expertise, opening up even more employment opportunities. The careers that are open to you as a family nurse practitioner with a post-master's certificate are similar to those who have an MSN in the field. FNPs are commonly employed in:
Hospitals
Clinics
Primary care offices
Private practices
Let's take a closer look at why you may wish to pursue this type of program.
Pros
Great option for an MSN-prepared nurse who wants to enter FNP the specialty without enrolling in a longer full degree program
Most nurses can keep working while they pursue their FNP post-grad certificate
More cost-effective than a DNP
Cons
Not available for nurses with undergrad nursing degrees
Culminates in a certificate and not a degree
Nurses who wish to enter administrative or other indirect patient care roles within family care may find the DNP a better fit
How to Choose an Online FNP Post-Master's Certificate Program
Though online options for family nurse practitioners to obtain their post-master's certificate are becoming more common, it's important to understand that some programs are actually a hybrid. These might allow you to complete much of the coursework online, but also require that you appear on campus a certain number of times. Students can also choose between full-time or part-time study options.
Prospective students can narrow down their choices by focusing on accredited FNP post-graduate certificate programs only, which are usually required for credentialing purposes.
Because of the wide range of certificates that you can choose to obtain, the number of credits that are required varies. This could also differ depending on the school you attend; most range from 12 to 36. The required clinical hours also increase the length of time that is needed to complete the certificate of your choice.
FNP Post-Master's Certificate Curriculum
Prior to starting a family nurse practitioner post-master's certificate program, you'll likely be required to complete advanced pharmacology, advanced physical assessment, and advanced pathophysiology. The rest of the curriculum involves core nursing courses and FNP-related specialty courses. These courses may include:
Adult-Gerontology Health Care
Pediatric/Family Health Care
Professional Role Development
Clinical hours with hands-on patient care are also a part of the FNP post-grad certificate curriculum. Over 700 clinical hours may be required, though this can vary. Online students can arrange a clinical preceptorship in their local area, as long as it is approved by their school.
List of Online Family Nurse Practitioner Post-Master's Certificate Programs
Search our listings below to find online and hybrid Family Nurse Practitioner post-master's certificate programs near you.
Select Your State:
Alabama
| | |
| --- | --- |
| Samford University | |
| The University of Alabama | |
| Troy University | |
| University of Alabama in Huntsville | |
Alaska
| | |
| --- | --- |
| University of Alaska Anchorage | |
Arizona
| | |
| --- | --- |
| Grand Canyon University | |
| Northern Arizona University | |
| University of Arizona | |
California
| | |
| --- | --- |
| Brandman University | |
| National University | |
| Sonoma State University | |
| Western University | |
Colorado
| | |
| --- | --- |
| University of Colorado | |
Florida
| | |
| --- | --- |
| Barry University | |
| University of Central Florida | |
Georgia
| | |
| --- | --- |
| Augusta University | |
| Georgia College | |
| Georgia State University | |
Illinois
| | |
| --- | --- |
| Bradley University | |
| Lewis University | |
| University of St. Francis | |
Indiana
| | |
| --- | --- |
| Ball State University | |
| Indiana State University | |
| University of Southern Indiana | |
Iowa
| | |
| --- | --- |
| Graceland University | |
| Morningside University | |
| University of Iowa | |
Kansas
| | |
| --- | --- |
| University of Kansas | |
Kentucky
| | |
| --- | --- |
| Eastern Kentucky University | |
| Frontier Nursing University | |
| University of Kentucky College of Nursing | |
| Western Kentucky University | |
Louisiana
| | |
| --- | --- |
| Southeastern Louisiana University | |
Maine
| | |
| --- | --- |
| Husson University | |
Massachusetts
| | |
| --- | --- |
| Massachusetts College Of Pharmacy And Health Sciences | |
| University of Massachusetts Boston | |
Michigan
| | |
| --- | --- |
| Saginaw Valley State University | |
| Spring Arbor University | |
Mississippi
| | |
| --- | --- |
| The University of Southern Mississippi | |
Missouri
| | |
| --- | --- |
| Maryville University | |
| University of Missouri - St. Louis | |
Nebraska
| | |
| --- | --- |
| Clarkson College | |
| Creighton University | |
New Jersey
| | |
| --- | --- |
| Monmouth University | |
New Mexico
| | |
| --- | --- |
| The University of New Mexico | |
New York
| | |
| --- | --- |
| Long Island University | |
| Stony Brook University | |
North Carolina
| | |
| --- | --- |
| Winston-Salem State University | |
North Dakota
| | |
| --- | --- |
| University of North Dakota | |
Ohio
| | |
| --- | --- |
| Case Western Reserve University | |
| Otterbein University | |
| University of Cincinnati | |
| Wright State University | |
Pennsylvania
| | |
| --- | --- |
| Clarion University of Pennsylvania | |
| Drexel University | |
| Duquesne University | |
South Carolina
| | |
| --- | --- |
| University of South Carolina | |
South Dakota
| | |
| --- | --- |
| South Dakota State University | |
Tennessee
| | |
| --- | --- |
| King University | |
| Tennessee Tech University | |
| The University of Tennessee at Chattanooga | |
| University of Memphis | |
Texas
| | |
| --- | --- |
| Angelo State University | |
| The University of Texas at Tyler | |
Vermont
| | |
| --- | --- |
| Norwich University | |
Virginia
| | |
| --- | --- |
| George Mason University | |
Washington, DC
| | |
| --- | --- |
| The George Washington University | |
West Virginia
| | |
| --- | --- |
| West Virginia University | |
| West Virginia Wesleyan College | |
| Wheeling University | |
Wisconsin
| | |
| --- | --- |
| Concordia University Wisconsin | |