Online MSN FNP Programs – Selecting the Best Program for You
Last Updated/Verified: Dec 17, 2021
The online Master's of Science in Nursing (MSN) is a popular route for nurses looking to become Family Nurse Practitioners (FNPs). In order to be eligible for a family nurse practitioner MSN, you must be an active, licensed RN who holds a nursing diploma, an Associate's Degree in Nursing (ADN), or a Bachelor's of Science in Nursing (BSN). You'll then need to complete a master's degree that is specifically designed to train you as a family nurse practitioner.
Compare the 2021 Top Ranked Online FNP MSN Programs
Earning an MSN in the Family Nurse Practitioner specialty can be the ticket to a long and rewarding career in advanced nursing practice. With the recent expansion of online program options, finding the right FNP MSN program can be a daunting proposition. That's why we have analyzed and ranked the best online FNP MSN programs across the country. Peruse our rankings below, and learn more about our rankings methodology here.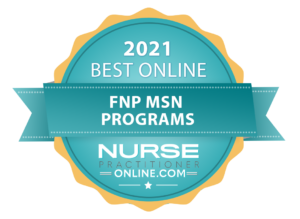 Why Get a Family Nurse Practitioner MSN Degree?
Pursing a master's degree to become a family nurse practitioner means dedicating time, money, and effort into furthering your healthcare career. Obtaining an MSN as an FNP boosts your knowledge and skillset. You'll be highly in-demand and have the ability to work in a range of settings. The following are just a few of the career choices that are open to you once you graduate:
Internal medicine
Emergency services
Private practice
Urgent care
The MSN degree is a popular route for FNPs for many reasons. Let's take a look at why this route might be right for you.
Pros
Online MSN family nurse practitioner programs are readily available at many levels, from RN to MSN up through BSN to MSN
The MSN pathway is generally the shortest and most direct route to becoming an FNP
FNP programs at the MSN level focus on hands-on clinical care
Cons
Those who already hold an MSN in another specialty may find the FNP post-master's certificate route cheaper and quicker
Nurses looking for leadership roles in administration, research, or academia may find the DNP a better choice
How to Choose an Online MSN FNP Program
Online family nurse practitioner MSN programs range in different aspects. For example, while they are mostly online, some programs require you to come to their campus at least once. Other educational institutions offer a truly online program without an on-site requirement. Whether the program is fully online or in a blended hybrid format, students are advised to choose a properly accredited family nurse practitioner MSN to ensure that their education will help them meet their goals.
The length of time it takes to complete this degree also differs. Some students might need to take bridge courses which could increase the duration of their schooling. Most programs range from 20 months to 32 months in length. As many as 63 credits could be required by a particular college, though the average tends to be around 45. Part-time and full-time study options are readily available.
MSN FNP Curriculum
While every school and family nurse practitioner MSN program is different, this list provides a general idea of what type of curriculum and courses you'll encounter:
Pathophysiology
Qualitative data analysis
Pharmacology
Quantitative data analysis
You'll also learn about advanced physical assessment, differential diagnosis and primary care, as well as leadership and the role of the advanced practice nurse as you move through the different portions of your education.
A capstone project is often the last requirement before graduation. Some colleges might offer an internship instead or require both. The number of clinical hours also differ, with some programs requiring more than 700 direct clinical hours. Those enrolled in online programs can work with their program's clinical coordinator to arrange a placement in their local area or in the medical facility in which they work.
List of Online MSN Family Nurse Practitioner Programs
Browse our listings below to find the perfect online or hybrid MSN Family Nurse Practitioner program for you.
Select Your State:
Alabama
| | |
| --- | --- |
| The University of Alabama | |
| Troy University | |
| University of Alabama at Birmingham | |
| University of Alabama in Huntsville | |
| University of Mobile | |
| University of South Alabama | |
Alaska
| | |
| --- | --- |
| University of Alaska Anchorage | |
Arizona
| | |
| --- | --- |
| Grand Canyon University | |
| Northern Arizona University | |
| University of Phoenix | |
Arkansas
| | |
| --- | --- |
| Arkansas State University | |
| Harding University | |
| University of Arkansas for Medical Sciences | |
| University of Central Arkansas | |
California
| | |
| --- | --- |
| California Baptist University | |
| California State University Dominguez Hills | |
| Sonoma State University | |
| United States University | |
| Western University | |
Colorado
| | |
| --- | --- |
| Colorado State University Pueblo | |
| Regis University | |
| University of Colorado | |
Connecticut
| | |
| --- | --- |
| Sacred Heart University | |
| University of Connecticut | |
Florida
| | |
| --- | --- |
| ECPI University | |
| Florida Atlantic University | |
| Keiser University | |
Georgia
| | |
| --- | --- |
| Emory University | |
| Georgia College | |
| Georgia Southwestern State University | |
| Georgia State University | |
Hawaii
| | |
| --- | --- |
| Hawai'i Pacific University | |
Idaho
| | |
| --- | --- |
| Northwest Nazarene University | |
Illinois
| | |
| --- | --- |
| Bradley University | |
| Lewis University | |
| Loyola University of Chicago | |
| Resurrection University | |
| Saint Francis Medical Center College of Nursing | |
| University of Illinois College of Medicine at Rockford | |
| University of St. Francis | |
Indiana
| | |
| --- | --- |
| Ball State University | |
| Indiana State University | |
| Indiana University - Purdue University Indianapolis | |
| Indiana Wesleyan University | |
| University of Indianapolis | |
| University of Southern Indiana | |
Iowa
| | |
| --- | --- |
| Allen College | |
| Briar Cliff University | |
| Graceland University | |
| Morningside University | |
Kentucky
| | |
| --- | --- |
| Bellarmine University | |
| Eastern Kentucky University | |
| Frontier Nursing University | |
| Kentucky Christian University | |
| Morehead State University | |
| Northern Kentucky University | |
| Spalding University | |
Louisiana
| | |
| --- | --- |
| Grambling State University | |
| McNeese State University | |
| Nicholls State University | |
| Northwestern State University of Louisiana- Online | |
| Southeastern Louisiana University | |
| Southern University and A&M College | |
Maine
| | |
| --- | --- |
| Husson University | |
| University of Maine | |
Massachusetts
| | |
| --- | --- |
| Endicott College | |
| Massachusetts College Of Pharmacy And Health Sciences | |
| University of Massachusetts Boston | |
Michigan
| | |
| --- | --- |
| Michigan State University | |
| Oakland University | |
| Saginaw Valley State University | |
| Spring Arbor University | |
Minnesota
| | |
| --- | --- |
| Herzing University Minneapolis | |
Mississippi
| | |
| --- | --- |
| The University of Southern Mississippi | |
| University Of Mississippi Medical Center | |
Missouri
| | |
| --- | --- |
| Maryville University | |
| Southeast Missouri State University | |
| University of Central Missouri | |
| University Of Missouri Kansas City | |
Nebraska
| | |
| --- | --- |
| Clarkson College | |
Nevada
| | |
| --- | --- |
| Touro University of Nevada | |
| University of Nevada, Las Vegas | |
New Hampshire
| | |
| --- | --- |
| Rivier University | |
New Jersey
| | |
| --- | --- |
| Felician University | |
| Monmouth University | |
| Ramapo College | |
New Mexico
| | |
| --- | --- |
| The University of New Mexico | |
New York
| | |
| --- | --- |
| Dominican College | |
| Long Island University | |
| Mount Saint Mary College | |
| Pace University | |
| Stony Brook University | |
| SUNY Polytechnic Institute | |
North Carolina
| | |
| --- | --- |
| Duke University | |
| East Carolina University | |
| Gardner-Webb University | |
| Winston-Salem State University | |
North Dakota
| | |
| --- | --- |
| University of North Dakota | |
Ohio
| | |
| --- | --- |
| Kent State University | |
| Malone University | |
| Ohio University | |
| The Ohio State University | |
| University of Cincinnati | |
| Walsh University | |
Oklahoma
| | |
| --- | --- |
| The University of Oklahoma | |
Pennsylvania
| | |
| --- | --- |
| Clarion University of Pennsylvania | |
| Drexel University | |
| Duquesne University | |
| Edinboro University | |
| La Salle University | |
South Carolina
| | |
| --- | --- |
| Anderson University | |
| Francis Marion University | |
| University of South Carolina | |
South Dakota
| | |
| --- | --- |
| South Dakota State University | |
Tennessee
| | |
| --- | --- |
| Austin Peay State University | |
| East Tennessee State University | |
| King University | |
| Middle Tennessee State University | |
| Tennessee State University | |
| Tennessee Tech University | |
| The University of Tennessee, Knoxville | |
| University of Memphis | |
Texas
| | |
| --- | --- |
| Angelo State University | |
| Midwestern State University | |
| Prairie View A&M University | |
| Texas A&M University | |
| Texas A&M University-Corpus Christi | |
| Texas State University | |
| The University of Texas at Arlington | |
| The University of Texas at Austin | |
| The University of Texas at Tyler | |
| The University of Texas Medical Branch at Galveston | |
| University of Houston | |
| University of Texas School of Nursing at Houston | |
| West Texas A&M University | |
Vermont
| | |
| --- | --- |
| Norwich University | |
Virginia
| | |
| --- | --- |
| George Mason University | |
| Jefferson College of Health Sciences | |
| Old Dominion University | |
Washington
| | |
| --- | --- |
| Gonzaga University | |
Washington, DC
| | |
| --- | --- |
| Georgetown University | |
| The George Washington University | |
West Virginia
| | |
| --- | --- |
| West Virginia University | |
| West Virginia Wesleyan College | |
| Wheeling University | |
Wisconsin
| | |
| --- | --- |
| Bellin College | |
| Concordia University Wisconsin | |
| Herzing University | |