5 Must-Have Apps & Tools for Nurse Practitioners in the Clinical Setting
Last Updated/Verified: Sep 22, 2023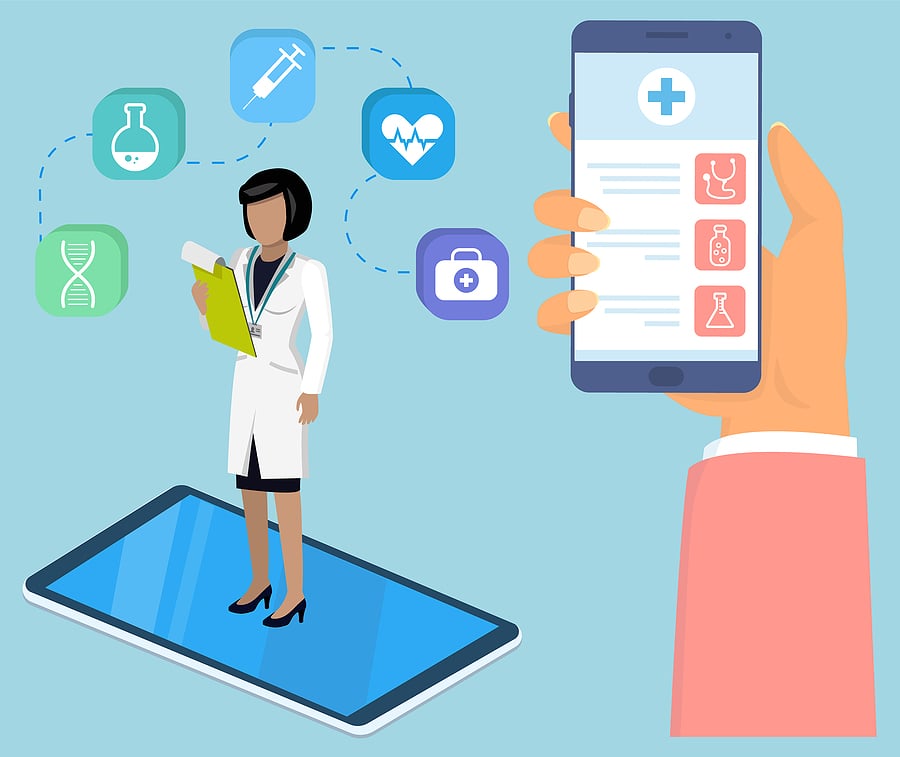 Prior to becoming a nurse practitioner (NP), you gain experience administering and educating patients about medications and medical conditions as a registered nurse (RN). Now, as an NP trainee or practicing NP, your tool kit is enhanced with an extra layer of complexity due to the responsibility of accurately diagnosing patients presenting clinical symptoms, prescribing the right medications, and managing conditions successfully.
The more practice you have under your belt, the more confident and knowledgeable you will be regarding the process of diagnosing, utilizing diagnostic tools, and selecting the right medical regimens for your patients. Your nurse practitioner education should effectively prepare you for this advanced practice role. It is important to have tools ready at your fingertips to quickly double-check any clinical suspicions or simply look up the right medication for the medical condition you are treating.
While technology makes looking things up much faster and easier than ever before, keep in mind that these tools are for reference only. Make sure to also use your critical thinking and clinical judgment before implementing any recommendations. If you are still unsure, it's recommended that you check with a more experienced clinician and additional trustworthy print or online resources.
1. Medication Look-Up Tool
In cases when the NP is seeing patients back to back, he or she might need to quickly double-check the indications or contraindications, dosing, and adverse effects of a particular medication before prescribing it to a patient.
The Epocrates app serves as a go-to app for many clinicians, offering a free way to lookup medications. It also allows you to check interactions with other drugs by inputting all medications that a patient is taking into the app. Remember to always check for contraindications, interactions, and the patient's history of medication allergies before you prescribe. Additional features such as information on diseases are also available for an additional fee. Find out more at www.epocrates.com.
There are many algorithms, calculators, equations, and guidelines that help the NP with quantitatively measuring his or her clinical suspicion of a presenting symptom, or determining whether it is justifiable to prescribe a medication for a patient. Luckily, most of these are readily available.
The MDCalc app is an excellent tool with many guidelines and calculators that you can utilize in clinical settings. It has all of the common guidelines such as the Ottawa Ankle Rule to reduce unnecessary X-ray ordering and the ASCVD risk algorithm for the NP to determine when to start a patient on anti-cholesterol medications, such as statins meds. It is available both as a smartphone app and online at www.mdcalc.com.
3. Medical Management Tool

In clinical settings, the NP may have a long list of patients to take care of. Therefore, it's important to have a concise tool to efficiently look up the most relevant management for a particular medical condition.
The FPNotebook app is a straightforward and user-friendly app that helps the NP formulate differentials and review common management. You can look up information by diagnoses or symptoms. It is available both as a smartphone app and online at fpnotebook.com. Again, remember to use your clinical judgment in every patient encounter.
4. Pediatrics Dosage Tool
The NP is required to dose prescriptions based on the pediatric patient's weight and/or age. For every medication, there is a recommended dosage per kilogram. For example, the recommended dosage for Acetaminophen for children is 10-15mg/kg/dose. So how much should you give a child of 60lbs?
The PediQuikCalc app is an especially convenient tool. All you need to do is enter the patient's weight. The app will then generate the suggested dose, maximum dose, recommended drug strength, adverse effects, dose frequency, and dispense amount per prescription. Of course, these are only recommendations. Find out more at www.pediquikcalc.com.
Learn more about nurse practitioner practice authority.
5. Antimicrobial Tool
Antibiotics misuse is on the rise, which means that the NP needs to be judicious when prescribing them. Other antimicrobials such as antivirals or antifungals require sensible use as well. So how do you choose the right antimicrobial?
The Sanford Antimicrobial Therapy app has been a long-standing trustworthy authority in the antimicrobials world. You can look up which antimicrobial is recommended based on the particular medical conditions. You can also enter the medication name and retrieve a thorough review on the usage, dosage, pharmacology, and major drug interactions. Although the price is steep for the app at $29.99/year, you can also buy a paperback version and keep it in your lab coat pocket. For more info, visit www.sanfordguide.com.
While there are endless tools that you can keep at your fingertips to enhance your clinical performance, these options are especially ideal if you're in a time crunch and need to retrieve concise information efficiently.

Latest posts by Amy Quynh L.N. Tran, FNP-C
(see all)