4 Tips to Succeed in Nurse Practitioner Clinical Rotations
Last Updated/Verified: May 8, 2023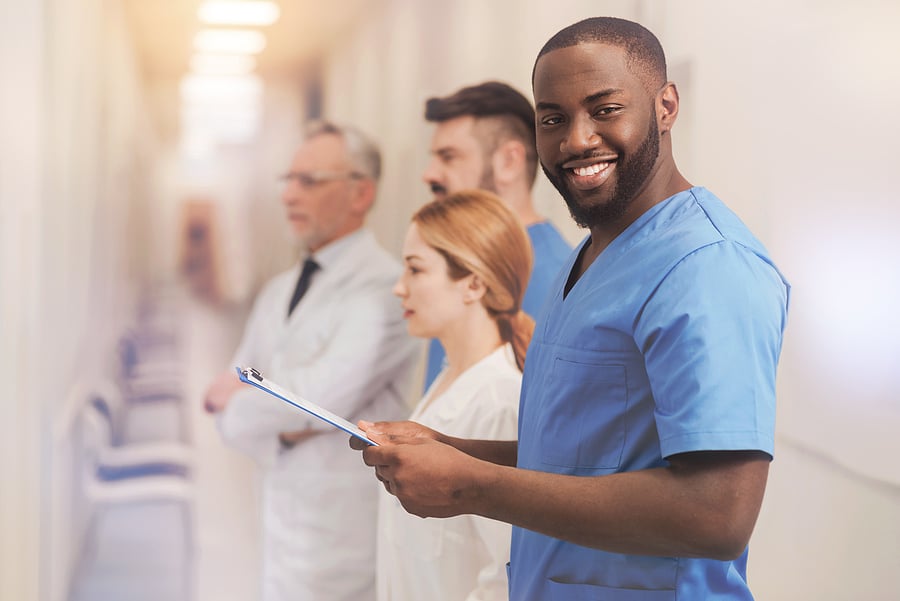 Prior to enrolling in the nurse practitioner (NP) program, all students are registered nurses who typically already have experience in various clinical settings. However, the NP program can still present additional challenges, particularly as it pertains to the clinical rotation portion of the curriculum. Becoming a lifelong learner is part of being a successful nurse, but for an RN with prior clinical experience, it can be hard to take on these NP opportunities with fresh eyes. Here are four tips to maximize your NP learning experience.
Tip #1: Get to Know Your Clinical Preceptor, Staff, and the Community
Arrive early on the first day to clarify expectations and preferences with your preceptor.
Address the following questions:
How should the NP student present themselves at each patient visit?
Will the preceptor come in and see the patient first, with you seeing them afterward? Or will you and the preceptor come in at the same time?
What are the preceptor's preferences for case presentations?
Do you only observe on the first day, and can you take notes? Should you ask questions while seeing the patients, or wait until you are out of the room? Also, see tip #4.
Learn the names and roles of the clinical staff and consult with them as appropriate. Be sure to say "thank you" often!
Regarding the community, proactively ask about the patient's age, gender, ethnicity, socioeconomic status, and typical conditions seen in their population. You should also know how to locate all nearby ER, labs, hospitals, pharmacies, and specialists. Do a drive-by to explore the housing conditions, demographics, neighborhood safety, and environmental hazards. This will give you a sufficient understanding of your patient's experiences.
RELATED: Securing Nurse Practitioner Preceptors: Why Are Some Schools and Students Paying for the Privilege?
Tip #2: Prioritize a Patient's List of Concerns at Every Visit
Many patients will have a long list of active medical diagnoses. While you should be knowledgeable about these conditions, you might not be able to address everything in one single visit. Therefore, it is important to prioritize and shape patient expectations. You may start with asking the patient, "What brought you in today?" It is critical to avoid missing new and potentially serious concerns while still addressing key management goals of chronic conditions. It may be helpful to set an agenda with the patients. Try saying, "There are a lot of important concerns. Let's focus on your new onset of heart palpitations and hypothyroidism management today. We will discuss your diabetes, gout, and chronic back pain management at the next visit since we only have 15 minutes for today, okay?"
Tip #3: Learn to Communicate Well with the Patient
Prior to seeing the patient, aim to review charts, look up conditions as needed, and formulate a tentative plan. When seeing the patient, introduce yourself while maintaining good eye contact, listen carefully, and establish the agenda and expectations. It is imperative that you ask for permission before laying hands on your patient's body. Additionally, as you perform your physical exam maneuvers, make sure to communicate your findings and clarify what you are looking for to ease your patient's comfort.
RELATED: How NPs Can Tackle Difficult Conversations with Patients and Families
Tip #4: Learn to Give a Well Thought-Out Patient Presentation to the Preceptor
Check with your preceptor to determine the process for presenting new and established patients. Keep a go-to template to adjust as needed to suit your preceptor's preferences. Here is an example:
TEMPLATE: Patient's name, sex, age, presenting concerns, list of medical diagnoses, current medications, and newest lab results.
Concern #1: Chronological history of present illness. Relevant physical exam findings. Treatment plan. Questions for the preceptor.
Concern #2: Same as above.
Other concerns: Follow-up plan.
CASE EXAMPLE: Mrs. Jane Doe, 63-year-old female, is here for a new onset of chest palpitations. History of hypertension and hyperlipidemia, diabetes, and hypothyroidism. On Metformin 500mg BID, Atorvastatin 20mg QD, Levothyroxine 100 mcg QD. Latest lab results from 3 months ago at annual visit include HbA1C at 7.1, TSH at 2.8, Lipid panels (list lab values), CBC (list lab values), CMP (list lab values).
Chest palpitations. She noticed the chest palpitations about two months ago. It occurs abruptly while at rest at a frequency of approximately once a week and a few seconds at a time. No other associating symptoms such as tingling in the arms, shortness of breath, or dizziness. Heart rate and rhythm normal with pulse at 88, 12-lead EKG shows normal sinus rhythm. Because she has hypothyroidism, her Levothyroxine may not be at the therapeutic level, causing the palpitations. My plan is to re-check the TSH level. Could there be other explanations and treatment plans for her concern?
Hypothyroidism. She has had hypothyroidism for one year and it is currently well-controlled. Her Levothyroxine dosage was increased to 100mcg from 75mcg at the annual visit three months ago. During the exam, skin is warm, dry, and intact with no lesions; thyroid is not palpable. I would like to re-check her TSH lab level due to a recent increase in dosage and the new onset of palpitations. Is there anything else I should be checking?
Other concerns. We did not discuss her diabetes today. I would like to schedule an appointment in two weeks to address this.
***
With a few tips like this in your back pocket, you can rest assured that your NP clinical rotations will help prepare you for a long and rewarding career.

Latest posts by Amy Quynh L.N. Tran, FNP-C
(see all)