Online MSN Women's Health NP Programs – Selecting the Best Program
Last Updated/Verified: Dec 1, 2022
A Master's of Science in Nursing (MSN) program is perfect for nurses who are interested in furthering their knowledge in a specific area of practice. If you're thinking about earning your women's health nurse practitioner MSN, you'll spend your time educating and treating women from adolescence through adulthood.
In order to enter an MSN in women's health nurse practitioner program, you'll need to have an unencumbered RN license and a BSN. Some programs will allow you to enter an MSN program without a BSN, allowing you to earn both degrees within the same program. While these programs are more time consuming than earning a single degree, it can be a great way to get a large portion of your education out of the way at one time (while saving money). Many women's health MSN programs also require some experience in the women's health nursing field. While exact program requirements vary, 12 months of work as a women's health RN is a typical requirement.
Compare the 2023 Top Ranked Online PNP MSN Programs
Earning an MSN in the Pediatric Nurse Practitioner specialty can be the ticket to a long and rewarding career in advanced nursing practice. With the recent expansion of online program options, finding the right PNP MSN program can be an overwhelming proposition. That's why we have analyzed and ranked the best online PNP MSN programs across the country. Check out our rankings below, and learn more about our rankings methodology here.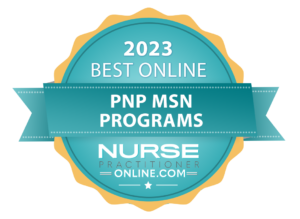 Why Get an MSN Women's Health Nurse Practitioner Degree?
When it comes to deciding which advanced nursing degree makes the most sense for your career goals, it can be tough to choose between earning an MSN, earning a post-master's certificate, or earning a doctorate of nursing practice (DNP) degree. The MSN pathway is a popular choice and can lead to a variety of career opportunities. While many women's health nurse practitioners work in hospital or other public and private organizations, others choose to open their own practice. Both of these viable options are excellent career choices for women's health nurse practitioners who earn their MSN.
Let's take a look at some of the pros and cons of earning your women's health nurse practitioner MSN degree.
Pros
Fast pathway to graduation compared to DNP track
Great direct choice for those who currently have a BSN
Focus on providing direct patient care
High program availability – many online MSN-WHNP programs available
Cons
If you're eventually thinking about getting your DNP, it may be more cost effective to immediately enter a DNP program instead of earning an MSN first
If you already have an MSN in another specialty or focus, completing another full MSN in the WHNP specialty may not make sense; a post-graduate certificate in WHNP will be faster and less expensive
Less focus on leadership and administration than other options
How to Choose an Online MSN Women's Health NP Program
When you decide to take your women's health nurse practitioner MSN courses online, you're making a smart move for your career. Going through a nursing program while working long hours is difficult, and it's important that you are able to balance your work and your studies. Before starting your online program, you may want to talk with your supervisor about whether they'll work with you to provide the time you need to complete your coursework.
As you look through the many options for earning your women's health nurse practitioner MSN online, there will be several factors that you'll want to consider as you choose the program that makes the most sense for you.
You'll want to take a look at how long each program you're considering will take, and whether you're able to choose between part and full-time study. Most full-time women's health nurse practitioner MSN programs take two to three years to complete, requiring a total of approximately 45 credits. When you take classes online, you may be able to choose your own pace. You may also be interested in hybrid learning options, in which some of your classes are taken online, while others are taken in a traditional classroom setting.
MSN WHNP Curriculum
When you begin a women's health nurse practitioner MSN program, some of the courses you can expect to take include:
Pharmacology for advanced practice nurses
Evidence-based nursing practice
Introduction to women's health
Health promotion, disease prevention, and other issues for women's health
Scientific underpinnings of advanced nursing practice
In most states, you'll need to complete approximately 600 hours of clinical hours. Depending on your program and your current job, you may be able to have these hours coincide with your job. As a part of your practicum, you'll meet regularly with faculty of your program to discuss issues you're having at work, problems you've faced in your practicum, etc.
List of Online MSN Women's Health NP Programs
Check our school listings below to find a list of online and hybrid MSN-level WHNP programs near you.
Select Your State:
Alabama
| | |
| --- | --- |
| University of Alabama at Birmingham | |
| University of South Alabama | |
Colorado
| | |
| --- | --- |
| University of Colorado | |
Georgia
| | |
| --- | --- |
| Emory University | |
Illinois
| | |
| --- | --- |
| Loyola University of Chicago | |
| University of Illinois College of Medicine at Rockford | |
Kentucky
| | |
| --- | --- |
| Frontier Nursing University | |
Louisiana
| | |
| --- | --- |
| Northwestern State University of Louisiana | |
Massachusetts
Missouri
| | |
| --- | --- |
| University Of Missouri Kansas City | |
New York
| | |
| --- | --- |
| Stony Brook University | |
North Carolina
| | |
| --- | --- |
| Duke University | |
Ohio
| | |
| --- | --- |
| Kent State University | |
| University of Cincinnati | |
Pennsylvania
| | |
| --- | --- |
| Drexel University | |
Washington, DC
| | |
| --- | --- |
| Georgetown University | |
Are we missing your school's nurse practitioner program or need to update any of the information listed? Please contact us.