Online Post-Master's Pediatric Nurse Practitioner Programs – What's the Best Program for You?
Last Updated/Verified: Nov 9, 2021
Online post-master's certificate programs have risen in popularity in recent years as a way for MSN-educated nurses to enter the Pediatric Nurse Practitioner (PNP) specialty without having to complete an additional full degree program. In order to attain a post-master's certificate (also referred to as a post-graduate certificate), you must be actively licensed as an RN (some even require APRN certification) and hold a minimum of a Master's of Science in Nursing (MSN).
Compare the 2021 Top Ranked Online Pediatric NP Post-Master's Certificate Programs
Taking care of ill and injured newborns is an especially rewarding area of advanced-practice nursing, which is why many NPs wish to switch to this specialty. The Pediatric Nurse Practitioner Post-Master's Certificate pathway makes it easy for nurses to prepare for practice within NICUs and beyond. Comparing programs is essential to success, and with so many online programs cropping up, it can be hard to find the right one. That's why we have ranked the best online Pediatric NP Post-Master's Certificate programs below. For more information on our rankings, check out our Methodology page.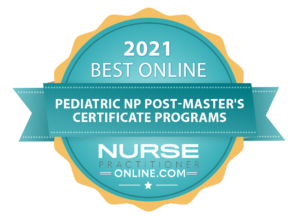 Rush University

Chicago, IL

Overview:
Recognized as one of the nation's top nursing schools, Rush University in Chicago offers an acute care pediatric NP certificate for experienced APRNs. The specialized program, which has distance learning components, educates students on advanced intensive therapies and treatments in inpatient, outpatient, critical care, and home care settings.
Highlights:
Ranked highly nationwide for its DNP and graduate online nursing programs
On-campus visits are required for this competitive program
Nationally and internationally recognized nursing faculty
Graduate Certificate Programs
University of Arizona

Tucson, AZ

Overview:
Tucson-based University of Arizona offers an online PNP post-master's certificate for skilled APRNs looking to specialize in providing and managing acute and chronic care for child populations. The program concentrates on health promotion, education, and prevention as well as diagnosis of conditions from a holistic perspective.
Highlights:
Designed for APRNs who are currently working in a clinical setting
Four semester program includes didactic and practicum units
May not be offered every year
Graduate Certificate Programs
Seton Hall University

South Orange, NJ

Overview:
Seton Hall University in New Jersey offers an online Pediatric Nurse Practitioner post-master's certificate program for APRNs with hands-on experience. The advanced curriculum focuses on providing primary care for younger age individuals. It includes both didactic and clinical courses.
Highlights:
Graduates are ready for FNP cert exams
Online graduate nursing programs are ranked in the top 30
Seton Hall is a traditional Catholic university
Graduate Certificate Programs
Why Get a Post-Master's Pediatric Nurse Practitioner Certificate?
This specialized certificate allows you to explore the pediatric nurse practitioner concentration, even if you have previously focused your efforts on another area of nursing. Many nurses pursue the PNP post-grad certificate to add an additional layer to their skills, such as a nurse who has experience as a Family Nurse Practitioner but wants to start focusing more on pediatrics, or to switch concentrations entirely.
Depending on your goals, a pediatric nurse practitioner post-master's certificate may lead to employment in a pediatric cardiology unit, as a nurse practitioner in a mental health setting, or in a pediatrician's office. Nurses who hold this post-master's cert are eligible for most direct-care PNP roles, and some eventually decide to continue on to earn a DNP degree in the role.
Other factors may also impact your decision to pursue this pathway, including the following:
Pros
The PNP post-master's certificate is a shorter and cheaper route for MSN-educated nurses than pursuing a DNP
Great option for those looking to add a pediatric focus to their practice
Prudent choice for MSN-educated nurses who want to focus on hands-on pediatric care
Cons
Not available to nurses who hold an ADN, diploma, or BSN degree
Those who wish to focus more on indirect care or education may find the DNP a better fit
Results in a certificate and not a degree, which may not hold the same prestige
How to Choose an Online Post-Master's Pediatric Nurse Practitioner Certificate Program
Because most pediatric nurse practitioners are already employed and desire to continue working while they pursue their post-master's certificate, it's important to consider several important factors when choosing an online program. One that offers the flexibility of part-time enrollment would likely fit better for students with busy schedules, though full-time options are also readily available.
Students should take care to pick an accredited program, and ensure that the program offers sub-specialization options if they wish to pursue a pediatric primary care nurse practitioner or a pediatric acute care nurse practitioner designation.
Post-Master's PNP Certificate Curriculum
There will be differences between schools as far as their requirements for earning a post-master's certificate. Most PNP post-grad certificate programs will take into account the student's prior education, so fewer core courses are usually required. A sampling of possible courses included in a pediatric nurse practitioner post-master's certificate program may include:
Health Promotion of Children
Primary Care for Infants, Children, and Adolescents
Pharmacology for the Pediatric Nurse Practitioner
Generally speaking, online post-graduate PNP programs require more than 600 supervised clinical hours to be eligible for graduation. Placements and preceptors are arranged in the student's local area, and align with optimal learning experiences, availability, and the student's professional goals. Some students are even able to complete their clinical hours in the hospital or medical facility where they are employed.
List of Online Post-Master's Pediatric Nurse Practitioner Certificate Programs
Finding an online or hybrid pediatric nurse practitioner post-master's certificate program is easier than ever with our listings. Browse below to find the perfect program for you.
Select Your State:
Arizona
| | |
| --- | --- |
| University of Arizona | |
Colorado
| | |
| --- | --- |
| University of Colorado Anschutz Medical Campus | |
Georgia
| | |
| --- | --- |
| Augusta University | |
| Georgia State University | |
Illinois
| | |
| --- | --- |
| Rush University | |
Kentucky
| | |
| --- | --- |
| University of Kentucky College of Nursing | |
Maryland
| | |
| --- | --- |
| Johns Hopkins University | |
Massachusetts
Michigan
| | |
| --- | --- |
| Wayne State University | |
Missouri
| | |
| --- | --- |
| Maryville University | |
| University of Missouri - St. Louis | |
Nebraska
| | |
| --- | --- |
| Creighton University | |
New Jersey
| | |
| --- | --- |
| Seton Hall University | |
New Mexico
| | |
| --- | --- |
| The University of New Mexico | |
New York
| | |
| --- | --- |
| Stony Brook University | |
Ohio
| | |
| --- | --- |
| Case Western Reserve University | |
Pennsylvania
| | |
| --- | --- |
| Drexel University | |
West Virginia
| | |
| --- | --- |
| West Virginia University | |