Online DNP Pediatric Nurse Practitioner Programs – What's the Best Program for You?
Last Updated/Verified: May 30, 2023
The Doctor of Nursing Practice (DNP), alongside the Ph.D. in Nursing, is the highest degree level a nurse can hold. Those who wish to enter the highest ranks in the Pediatric Nurse Practitioner (PNP) profession often pursue an online DNP degree to reach their goals. Prior to starting a pediatric nurse practitioner DNP, prospective students should hold either a BSN or MSN degree. In addition to this, an active and unencumbered nursing license is required, as well as some professional experience in the pediatric field.
Compare the 2023 Top Ranked Online Pediatric NP DNP Programs
Nurses who want to make a large-scale impact on pediatric care often opt for the terminal Pediatric Nurse Practitioner degree - the DNP. Selecting a quality educational program is of utmost importance, and with expanded online DNP programs cropping up across the country, it can be difficult to know where to start. That's why we have analyzed and ranked the top online Pediatric NP DNP programs. Browse this year's list of best programs below to get started on your journey. For more information on how we developed our program rankings, visit our Methodology page.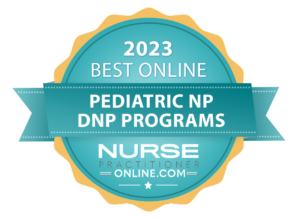 Augusta University

Augusta, GA

Overview:
Augusta University in Georgia enables nurses to deliver quality, primary care to children and adolescents via its online DNP for Pediatric NPs. Students gain knowledge in nursing leadership, policy development and hands-on clinicals so they can strive to improve health outcomes in the field.
Highlights:
Students must participate in some on-site sessions.

Only Georgia or South Carolina residents are accepted into the program.

The DNP is project rather than thesis focused.

Creighton University

Omaha, NE

Overview:
Creighton University has on its roster a Pediatric Nurse Practitioner DNP that encompasses both primary and acute care. This terminal, mostly online degree readies nurses to practice at the top of their game as they deliver care to infants, children, and youth.
Highlights:
DNP coursework can be customized per student interest.

A private Jesuit research university in Omaha.

A 60-year history of educating nurses.
DNP Programs
University of Cincinnati

Cincinnati, OH

Overview:
Students who earn their DNP-Pediatric NP online at University of Cincinnati become leaders and mentors in nursing. The program covers advanced health assessment as well as treatment of acute and chronic conditions for young patients. In addition to practicums, healthcare policy and economics are components of the doctorate program.
Highlights:
In-person campus visits are required for students

Students complete a DNP project to show their expertise

BSN-to-DNP and MSN-to-DNP options are available

DNP Programs
Why Get a DNP Pediatric Nurse Practitioner Degree?
A pediatric nurse practitioner doctor of nursing practice (DNP) degree demonstrates a strong commitment to the study of pediatrics as well as nursing itself. It also signifies that you are a leadership material and possess the expertise that is needed to drive change to improve the health and lives of children.
You'll be able to have your choice of career opportunities once you've earned your DNP. You could work with the armed forces, in a public health setting, or with a primary care pediatric clinic. Because of your leadership skills, you could also work behind the scenes as a policymaker, department head, or educator. As an administrator, you could drive your organization forward.
With several degree pathways to the pediatric nurse practitioner specialty, you may still wonder why you should choose the DNP route. Here are some key factors to consider.
Pros
The DNP pathway can lead to indirect care roles in administration, academia, and/or research in the pediatric field
A PNP who holds a DNP can earn a significantly higher salary than those who don't hold a doctorate degree
There are BSN-DNP and MSN-DNP options available
Cons
The length and expense of a DNP can be off-putting
Those with an ADN or nursing diploma will typically need to earn at least a BSN before pursuing a DNP
Nurses who hold an MSN but don't wish to enter high-level indirect care roles within pediatrics may find that the PNP post-master's certificate is the better choice
How to Choose an Online DNP Pediatric Nurse Practitioner Program
For many DNP programs, practicum hours comprise a large portion of your studies. If you are planning to continue working throughout the program, you'll want to be sure that these are manageable. In addition, there are programs that require you to take on-site courses at some point during the program. Be sure that you are able to easily do so. Another option is to choose a fully online program from a school that does not require any in-person visits.
Pediatric nurse practitioner students may wish to pursue acute care or a primary care DNP focus. It's a good idea to make sure the program you are considering offers the sub-specialization of your choice. Students are also advised to choose a properly accredited program to ensure that their investment of time and money is worthwhile.
DNP PNP Curriculum
The online PNP-DNP curriculum is challenging and intensive. At this level, students will take numerous advanced core nursing and specialty courses. The length of this type of program is generally dictated by what type of degree level you enter the program with. The BSN-DNP pathway in the PNP specialty usually requires a minimum of 73 credits, while the MSN-DNP requires at least 36 credits. Coursework may include:
Foundations of Health Systems and Health Economics
Childhood Common Behaviors & Developmental Issues
Social Determinants of Health and Health Equity
Electives that you might choose include courses like Pediatric Cardiac Anatomy, Physiology, Pathophysiology and Management or Pediatric Pulmonary Anatomy, Physiology and Pathophysiology. These allow you to explore your passions or those areas that are in high demand within the nursing industry. At the end of the program, a final capstone project may be required in order to graduate.
Also required for the online pediatric nurse practitioner program are supervised clinical hours – over 1,000 are typically required for the DNP. Clinical placements and preceptors can be set up by the school, or students can suggest one in their local area for approval.
List of Online DNP Pediatric Nurse Practitioner Programs
To help you find the perfect Pediatric Nurse Practitioner DNP program, we've compiled a list of online and hybrid options. Browse the listings below to find a great program near you.
Select Your State:
Arizona
| | |
| --- | --- |
| University of Arizona | |
California
| | |
| --- | --- |
| Loma Linda University | |
Georgia
| | |
| --- | --- |
| Augusta University | |
Illinois
| | |
| --- | --- |
| Rush University | |
| University of Illinois at Chicago (UIC) | |
Iowa
| | |
| --- | --- |
| University of Iowa | |
Kentucky
| | |
| --- | --- |
| University of Kentucky College of Nursing | |
Maryland
| | |
| --- | --- |
| Johns Hopkins University | |
Michigan
| | |
| --- | --- |
| Wayne State University | |
Missouri
| | |
| --- | --- |
| Maryville University | |
| Mizzou Online- University of Missouri | |
| University of Missouri - St. Louis | |
| University Of Missouri Kansas City | |
Nebraska
| | |
| --- | --- |
| Creighton University | |
New York
| | |
| --- | --- |
| University at Buffalo | |
Ohio
| | |
| --- | --- |
| The University of Toledo | |
| University of Cincinnati | |
Pennsylvania
| | |
| --- | --- |
| University of Pittsburgh | |
Tennessee
| | |
| --- | --- |
| East Tennessee State University | |
| The University of Tennessee Health Science Center | |
Washington
| | |
| --- | --- |
| University of Washington | |
Are we missing your school's nurse practitioner program or need to update any of the information listed? Please contact us.