Online DNP Psychiatric-Mental Health NP Programs – What's the Best Program for You?
Last Updated/Verified: Dec 14, 2021
Earning a Doctor of Nursing Practice (DNP) degree is the pinnacle of nursing education. If you're ready to take your career to new heights while specializing in the mental health field, earning your psychiatric-mental health nurse practitioner DNP is a fantastic investment in your long-term career success. Some DNP programs require nurses to already have a graduate degree, while others allow nurses to earn their MSN and DNP within one program. No matter what your current educational level, you'll need to have a current, unencumbered RN license and one to two years of practice nursing in the mental health field in order to be a solid candidate for DNP programs. You may also need to submit a resume, professional references, and a statement of purpose explaining how you'd like to move forward in your career after you earn your DNP.
Compare the 2021 Top Ranked Online PMHNP DNP Programs
As the need for psychiatric care rises in the United States, nurses who seek to reach new heights in their career often gravitate to the terminal degree choice - the DNP. Once you've made the decision to pursue a DNP-level Psychiatric-Mental Health Nurse Practitioner program, the next step is to narrow down your educational options. With online learning increasing in popularity, many students are opting for distance-learning programs. To help you narrow down your choices, we've ranked the best online PMHNP DNP programs in the nation. Check out the rankings below, and learn more about our rankings process here.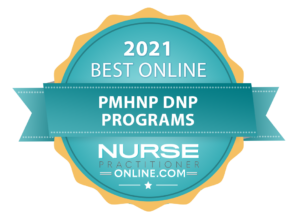 University of Kansas

Lawrence, KS

Overview:
The University of Kansas offers a primarily online post-bachelor's PMHNP DNP for nurses who are ready to take their practice careers to the highest levels. Nursing leadership is woven throughout the curriculum as improving health outcomes, applying research to healthcare delivery, and using technological capabilities.
Highlights:
Program offered every other year
Some in-person components may be required
Curriculum comprised of 79 credit-hours
Idaho State University

Pocatello, ID

Overview:
Idaho State University offers an online DNP program with a specialty in Psych-Mental Health Nurse Practitioner (PMHNP). Students gain expertise in making psychiatric mental health assessments across the larger, patient wellness spectrum. Treating rural patient populations is a key part of the program focus.
Highlights:
Only open to experienced, Family or Mental Health Nurse Practitioners
On-campus clinical intensives are necessary to graduate
Graduates can sit for certification exams
New Mexico State University

Las Cruces, NM
Overview:
The online DNP - PMHNP from New Mexico State University prepares students to treat primary and mental health care in patients of all ages. The integration-focused program advances the specialty's core areas, including assessment, diagnosing, psychotherapy, and pharmacology.
Highlights:
Graduates are readied to test for certification
The DNP is only offered in a full-time capacity
Clinical practicum experiences may be completed at the student's home location
DNP Programs
Why Get a DNP Psychiatric-Mental Health NP Degree?
Earning a DNP can be time consuming and intense, but DNPs generally agree that it's well worth the hard work. When you earn your psychiatric-mental health nurse practitioner DNP, you'll have many options on how to move forward in your career. Many nurses with their DNP in this specialty open private mental health practices. If you'd prefer to work as a part of a larger organization, you'll have many options to work in private or public healthcare practices, rehabilitation centers, psychiatric facilities, state-run facilities, universities, research facilities, and more.
Check out some of the other pros and cons of earning a psychiatric-mental health nurse practitioner DNP degree.
Pros
Focus on healthcare administration and policy
Highest degree in nursing
Opens up opportunities for education and research positions
Cons
Can be expensive, especially if your job does not offer tuition assistance
Takes longer to complete than other degree options
An intensive thesis or capstone project may be necessary in order to graduate – these can be time-consuming and challenging
How to Choose an Online DNP Psychiatric-Mental Health NP Program
Most online psychiatric-mental health nurse practitioner DNP programs take four to five years to complete for full-time students. Many schools offer the option to attend part-time, but may require that you finish your coursework within a certain timeframe. Credits required for graduation may range from 50-75 in total, and will vary based on your prior education.
While there are some psychiatric-mental health nurse practitioner programs that are available completely online, others are offered in a hybrid format. A hybrid format allows students to get the best of both worlds – the flexibility of an online education with the face to face interaction of a traditional classroom. If you're interested in a hybrid program, you're likely to find many that offer classes on nights and weekends, making it easier for working professionals to attend.
DNP PMHNP Curriculum
A DNP curriculum is intense, and covers many aspects of psychiatric healthcare, from leadership to providing direct patient care. Throughout the course of your psychiatric-mental health nurse practitioner DNP program, some of the courses you're likely to take include:
Psychiatric diagnosis and management of children
Psychiatric diagnosis and management of adults and geriatric patients
Evidence-based practice
Organizational systems and leadership in healthcare
Healthcare law, policy, and analysis
Advanced pharmacology
While exact practicum requirements differ from program to program, it's likely that you'll need over 1,000 hours of clinical work. While this can seem daunting, it's key to remember that this work occurs over a period of several years, and can often be completed while you're on the clock at your current job. Not all of the hours are required to be spent in direct patient care, and you may be able to break up your clinical hours in several different work environments. You may also want to talk with your supervisor about whether you can spend some of your hours at work completing clinical hours in an area of interest for you within the psychiatric-mental health specialty. This can be helpful in allowing you to do research and develop ideas for class assignments.
List of Online DNP Psychiatric-Mental Health Nurse Practitioner Programs
To find an online or hybrid DNP-level PMHNP degree program near you, check out the listings below.
Select Your State:
Arizona
| | |
| --- | --- |
| University of Arizona | |
Arkansas
| | |
| --- | --- |
| University of Arkansas for Medical Sciences | |
California
| | |
| --- | --- |
| Brandman University | |
| Loma Linda University | |
Delaware
| | |
| --- | --- |
| University of Delaware | |
Georgia
| | |
| --- | --- |
| Augusta University | |
Hawaii
| | |
| --- | --- |
| Hawai'i Pacific University | |
Idaho
| | |
| --- | --- |
| Idaho State University | |
Illinois
| | |
| --- | --- |
| Rush University | |
| University of Illinois at Chicago (UIC) | |
| University of Illinois College of Medicine at Rockford | |
Iowa
| | |
| --- | --- |
| Clarke University | |
| University of Iowa | |
Kansas
| | |
| --- | --- |
| University of Kansas | |
| Washburn University | |
Kentucky
| | |
| --- | --- |
| University of Kentucky College of Nursing | |
Massachusetts
| | |
| --- | --- |
| University of Massachusetts Amherst | |
Michigan
| | |
| --- | --- |
| Wayne State University | |
Mississippi
| | |
| --- | --- |
| University Of Mississippi Medical Center | |
Missouri
| | |
| --- | --- |
| Maryville University | |
| Mizzou Online- University of Missouri | |
| University of Missouri - St. Louis | |
Montana
| | |
| --- | --- |
| Montana State University | |
Nebraska
| | |
| --- | --- |
| Creighton University | |
New Mexico
| | |
| --- | --- |
| New Mexico State University | |
New York
| | |
| --- | --- |
| Hunter College | |
| University at Buffalo | |
Ohio
| | |
| --- | --- |
| Otterbein University | |
| The Ohio State University | |
| The University of Toledo | |
Pennsylvania
| | |
| --- | --- |
| Robert Morris University | |
| University of Pittsburgh | |
South Carolina
| | |
| --- | --- |
| Anderson University | |
Tennessee
| | |
| --- | --- |
| East Tennessee State University | |
| The University of Tennessee Health Science Center- Memphis | |
| The University of Tennessee, Knoxville | |
Texas
| | |
| --- | --- |
| Texas Tech University | |
Washington
| | |
| --- | --- |
| Gonzaga University | |
| University of Washington | |
| Washington State University | |